Invest in the Right Equipment for Your Road and Bridge Construction Jobs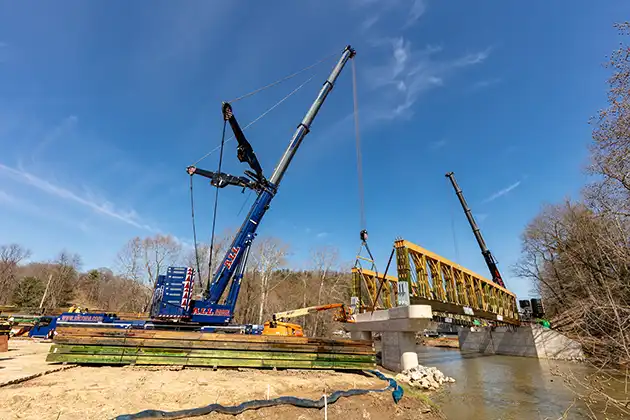 Road and Bridge Crane Rentals
ALL: Value Beyond Road and Bridge Crane Solutions
When you turn to ALL Crane, you're working with the leader in the heavy lift industry. We've earned that distinction because we're dedicated to providing top service and support whether you need top-of-the-line cranes with cost-saving features or tailored lift planning solutions catered to your exact jobs.
Tailored, Cost-Effective Solutions
At ALL Crane, we're committed to delivering quality equipment and service and a cost-effective price. We strive to be your single-source partner for all your road and bridge construction and repair jobs, which means utilizing our collective experience and state-of-the-art fleet to find the right lift planning solution for your needs.
Our experienced team works closely with you to review every aspect of your job. We can help you identify which cranes are best suited for one-piece picks, dual and multi-crane picks, setting repeated beams, and any other lifts. Our lift planners can use three-dimensional lift planning technology to help you plan your projects to accommodate ground-bearing pressure, natural hazards, and any other challenges. We can even assist with logistics to figure out the best ways to ship equipment to wherever your pick will take place
.
Value-Added Services for All Your Infrastructure Jobs
ALL Crane is your one-stop shop for all your heavy lifting needs. We offer a variety of services and benefits to help your company save money, maintain equipment uptime, and make life easier for everyone involved. All our partners get to enjoy the benefits of the following services:
Road and Bridge Cranes For Sale
Buy or Rent from ALL
The ALL Family of Companies is the largest privately-owned crane rental and sales enterprise in North America, with 33 locations operating under the ALL, Central, Dawes, Jeffers, and ALT names. We rent and sell cranes, aerial boom lifts and tower cranes. With specialized divisions for tower cranes, aerial boom & scissor lifts, boom trucks & trailers, and parts: We're ALL you need.®