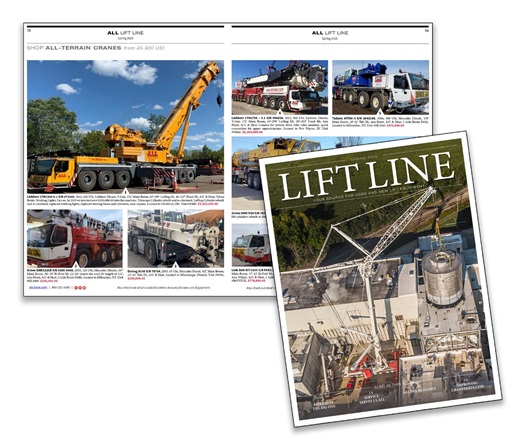 Realizing it is necessary to have a variety of touchpoints with its audience, for ten years the ALL Family of Companies has stayed connected with customers via Lift Line, a compendium of product for sale mixed with details of exciting and unique lifts. Now, it's going digital. For the first time, ALL customers—and prospective customers—can view an online copy of the spring 2020 edition of Lift Line.
The edition includes photos and specs for dozens of crane units for sale, from rough terrain and truck cranes to towers. Each unit includes a brief description, full-color photo, and pricing information. Each machine comes direct from ALL's own fleet, with a meticulously maintained and thoroughly documented service record.
ALL also uses Lift Line to provide details of some of its greatest recent lifts. These accounts give customers real insight into how these machines perform in real-world situations. The most recent edition depicts a challenging dual-pick successfully performed on the shores of Lake Erie, as well as an inside look at the service department that keeps hundreds of cranes running smoothly across three-dozen North American locations.
See the new, digital Lift Line for yourself here.