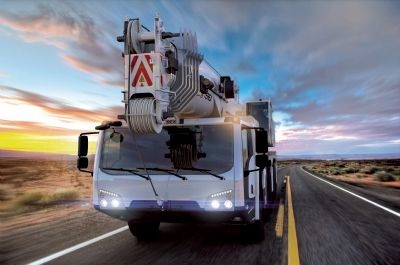 From the longest wooden covered bridge in the United States to the sleek steel pedestrian bridge at the Art Institute of Chicago, the ALL Family of Companies' expertise spans every type of bridge construction and a multitude of difficult geographic conditions.
Cranes from ALL have helped build the vital George V. Voinovich (formerly the Innerbelt) Bridge in Cleveland, the I-4/Selmon Crosstown Expressway Connector in Tampa, Fla., and an architecturally distinctive bridge 130 feet over a river in Toledo, Ohio. In its 50-plus-year history, ALL has been able to provide exactly the right cranes for a variety of bridge and highway work, and their world-class fleet and service acumen is second to none.
ALL's bridgework success is, in large part, due to having the right cranes for the job. To ensure that it can continue to provide the best equipment for its customers, ALL beefed up its impressive fleet of all-terrain, crawler and truck cranes with a recent purchase of eight new Terex machines — including the Explorer 5500, a new compact all-terrain crane introduced in fall 2014 that has several distinguishing benefits. This big buy for ALL is slated to serve customers renting or buying cranes for the increasing number of bridge construction projects and other related construction work ramping up across the U.S. Midwest, said Mike Garrity, director of new crane sales for the ALL Family of Companies. The package of Terex cranes includes two of the new Explorer 5500 (140 USt/127 mt), an all-terrain model that is the most compact AT Terex has produced; two AC100/4L (120 USt/109 mt) all-terrain cranes; four crawler cranes in a special bridge-building package, including two HC 110 (110 USt/100 mt) and two HC 165 (165 USt/150 mt) crawler cranes; and one T 560-1 (60 USt/54 mt) hydraulic truck crane.
"As a tier-one Terex dealer in five states, we already know these high-quality machines are both reliable and in high demand for infrastructure projects and working on tight construction sites," said Garrity. "Keeping our fleet replenished with new machines like these expands our ability to assist whenever we are called for these jobs."
The bulk of the machines will be based at ALL's Cleveland headquarters yard, to be utilized for bridgework throughout Ohio, Indiana, Pennsylvania and other surrounding states. The truck crane will serve the ALL Family's Dawes Rigging & Crane Rental division in Wisconsin. Each of these machines will be available for sale or rent to ALL's customers.
With a focus on the retail of new equipment, Garrity makes it his business to know what these new Terex machines offer customers in the bridge and highway market — and also what great additions they'll be to the ALL fleet. "There's a $600 million bridge project coming up in Florida in 2017 that we're pretty excited about, and you can be sure that we'll have Terex equipment there," he said.
Terex Equipment Features
Explorer 5500 All-Terrain Crane
Despite its impressive lifting capacity of 140 USt, Terex says the Explorer 5500 is the most compact 5-axle all-terrain crane it has ever released—an important feature for working in tight, narrow or congested job sites. With a carrier length of just 39.8 feet and a total length of 46.9 feet, the five-axle AT also features a 197-foot-long main boom and has an overall system length of 284 feet.

Garrity is more than enthusiastic about this new AT, and said it offers some revolutionary features, including the self-diagnostic IC-1 computer system that allows the operator access to the operational readout of the crane systems. Working in tandem with the IC-1 computer system is a new, highly effective asymmetrical outrigger positioning system. Garrity explained, "Together, the IC-1 system and outrigger positioning system create a custom load chart for whatever outrigger dimension is required for the job." An important safety feature, added Garrity, is the 5500's swing limiter, which can be set to avoid swinging the boom into overhead obstacles such as electrical power lines.

The new Explorer 5500 AT features Terex's innovative single-motor concept, already available on its larger-capacity Explorer 5600 and Explorer 5800. The Explorers' diesel engines, manufactured for Terex by Scania, meet Tier 4 Final global off-highway emission standards. [See "The Swede Spot,"]

"The benefits of one engine include reduced total crane weight, less daily maintenance time, and lower long-term operating costs," Garrity explained. "Scania says the motor is good for more than 20,000 hours of operation. This is big news, and on top of that it has a two-year warranty," he said. "That's a game changer — but then, Scania engines have been used for years in the mining industry, where they've been proven extremely dependable under tough conditions."


AC 100/4L All-Terrain Crane
With a carrier length of only 35 feet, the 120-USt AC 100/4L is the most compact and has the highest lifting capacities of any 4-axle AT. It can easily handle the tightest locations and the longest boom extensions, said Garrity, and it includes the IC-1 computer system. It goes places other 4-axle cranes can't go, yet has the largest operating range of any AT in its class, in all configurations. A powerful 445hp Daimler engine is responsible for the crane's road-traveling capabilities and for keeping fuel consumption low.


HC 110 and HC 165 Lattice-Boom Crawler Cranes
With a 110-USt capacity and a maximum 230-foot main boom, the HC 110 crawler also offers superior transportability with dimensions of 11 feet wide and just over 11 feet high. The HC 165 crawler offers a 165-USt capacity with a maximum 270-foot main boom and is fully self-erectable. Both HC models are available with or without Terex's innovative pin-on third drum, which is easily removable to reduce the crane's travel weight. T 560-1

Hydraulic Truck Crane
This 60-USt truck crane sets up quickly at the job site and configures easily for highway travel at speeds up to 65 mph.
# # #
Published in Lift Line magazine, Summer 2015