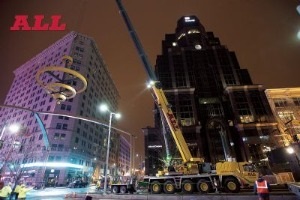 [REGIONAL REPORT] You've never been to Cleveland, Ohio. Oh sure, maybe in the 80s you went to "the Flats" area next to the Cuyahoga River. Or you had a layover at Cleveland Hopkins Airport, or went to a conference once out in Beachwood, or a wedding in Westlake. But you've never really been to Cleveland — not this one, not the one that has been steadily punching its massive, rust belt fist up through the ground for the past several years.
MOVEMENT. UP, SIDEWAYS, OUT Old, empty office buildings that once sat staid and stale are being bored out and rebuilt from the inside out, with builders almost not being able to keep up with the demand for urban residences, which are in high demand and hovering around 98 percent occupancy. Tracts of land are transformed. Wings are added on. Existing fixtures and structures undergo grand-scale improvements. Cleveland is buzzing with construction activity, and the name is on everyone's lips across the country, and even the world, having garnered the spotlight with the next Republican National Convention. There truly is something for everyone in the newly transformed Cleveland, and the influx of young professionals, commercial business growth, and restoration in the city is astounding. You have to see it to believe it.
Northeast Ohio has a strong backbone — the core strength of the area was built on the backs of industrial laborers like steel and autoworkers generations ago. Hard times befell the city during the economic downturn of the 90s. Stories circulated widely about the high number of property foreclosures, the dwindling population. It was a tough time. But Clevelanders are hardy, with an enviable will to survive and thrive that saw them draw together and forge a determined path forward together.
As Cleveland serves as its headquarters, the ALL Family of Companies has been involved with nearly every major construction project (and dozens of mid-size and smaller projects) changing Cleveland's urban landscape literally every day. These major, complex, and sometimes very fast-paced construction jobs have challenged ALL while raising the profile of its now very recognizable cranes to the citizens of and visitors to Cleveland, serving as harbingers of the message, "The future is here."
Cleveland's renaissance has been marked by a number of major construction projects that have garnered national attention. The following are just a few of the construction projects that are changing the face of the city.
PLAYHOUSE SQUARE
Cleveland's Playhouse Square is home to the largest centralized performing arts district outside of New York, attracting more than a million visitors annually. In May, an enormous, glittering chandelier hanging over the district was installed and lit after months of design and careful planning. The $1.2-million, 8,500-pound, 20-foot-tall chandelier is made of steel/aluminum arms and hoops and holds approximately 4,200 beautiful acrylic resin crystals. The chandelier has been officially designated by Guinness as the world record holder for the largest outdoor chandelier. This sparkling beauty was lifted into its permanent position in early May, where it gleams 24 feet above the intersection of Euclid Avenue and East 14th Street. This was a particularly delicate job because the beauty and integrity of the chandelier had to be maintained — in fact, it was stored in a warehouse until the night it was lifted into place to make sure there were no scratches to the delicate coating. For this careful pick, ALL used a 165-USt Grove GMK5165 AT. The chandelier was specifically designed and tested to withstand Cleveland's winters, which can be marked by heavy winds, freezing of snow.
FIRSTENERGY (CLEVELAND BROWNS) STADIUM
As part of a two-year modernization project, ALL has had more than a dozen cranes of all sizes and varieties on the shores of Lake Erie, where the Cleveland Browns' football arena, FirstEnergy Stadium, is located. From Manitowoc 888 Series II crawler cranes to Grove and Demag all terrain cranes, to scissor lifts and articulating telescopic booms, ALL provided every crane on this complex and tight job site, where upgrades had to be completed prior to the start of the 2014 football season. Construction work included installation of a huge new digital scoreboard, installation of brand new audio equipment to improve visitors' experience, and prepping the structure for the installation of escalators. Whether lifting out sections of pre-cast seating or filling in open corners with new seating, from end zone to end zone, ALL scored a touchdown with combined skill, service, and the necessary equipment to handle every aspect of the job.
INNERBELT BRIDGE DEMOLITION
Deconstruction and demolition of Cleveland's 55-year-old Innerbelt bridge was part of the largest single investment in the Ohio Department of Transportation's history. This enormously complex project, with multiple work zones and dozens of cranes, heavy machinery, and operators and mechanics from ALL on site every day, occurred in numerous phases. The bridge stretched 4,223 feet over businesses, the Cuyahoga River, and light and heavy rail tracks, and the dismantling project included a high volume of heavy and critical lifting over many months. Equipment needs were high and varied, and ranged from a 225-USt Grove GMK5225 and a 265-USt Grove GMK5275 with man baskets with steelworkers cutting apart sections, to a 200-USt barge-mounted Link-Belt LS-248H II, to 500-ton all terrain cranes — a Liebherr LTM 1400-7.1 and a Demag AC1300 that lowered the huge and heavy bridge sections to the ground. There were scheduled shutdowns of the river and rail tracks, involving a 300-USt Manitowoc 2250 S-3 lattice boom crawler and a 230-USt Manitowoc 888 S-2 crawler to help dismantle and lower pieces of girders and on-ramps. At the end of the project, a publicly attended, explosive demolition of the last remaining pieces of this landmark was safely executed in July 2014.
FLATS EAST BANK
The storied Flats section of downtown Cleveland, adjacent to the Cuyahoga River, is in the midst of a massive, multi-phased, $500-million waterfront development and restoration project. This impressive ongoing project brings a myriad of dining, retail, and entertainment venues back to this well-known district. Phase I, now complete, called on multiple machines from ALL to assist with construction and erection of a 23-floor office tower (Ernst & Young tower) with an open-air rooftop deck, a new 150-room boutique hotel (Aloft by Starwood), new restaurants, including Ken Stewart's, Lago, and The Wileyville, along with a 16,000-foot health club. ALL handled much of the heavy lifting work utilizing a 22-USt Potain MD 485 B M20 tower crane, well suited for work requiring high productivity and a striking symbol of progress on the skyline. Phase II, set to open in 2015, will include a 240+-unit waterfront residential complex and a 1,200-foot boardwalk, as well as popular attractions such as a piano bar, a bier market, and a club/restaurant owned by country music star Toby Keith.
MEDICAL MART & CONVENTION CENTER
The Cleveland Medical Mart & Convention Center, which came to be known by its proper name, the Global Center for Health Innovation, was a $465-million construction project that began with site clearing and demolition in January 2011 and was completed in August 2013. This state-of-the-art facility offers 1.1 million square feet of space for medical showrooms, an exhibition hall, and conference facilities. LEED Silver-certified, the 750,000-square-foot convention center can host meetings of all types and sizes. ALL was on the job from the first groundbreaking and provided five cranes to hoist the components of the structure's massive steel frame. Crawler cranes, RTs and ATs handled lifting of the heaviest steel for the complex's metal deck erection, with several 120-foot truss members, weighing up to 166,000 pounds each, forming the atrium's support. This enormous and impressive complex augments what was already a thriving, world-class healthcare community in Cleveland, which is home to nationally recognized hospital systems including the Cleveland Clinic, University Hospitals, and MetroHealth Medical Center.
CLEVELAND MUSEUM OF ART
The world-renowned Cleveland Museum of Art has undergone an incredible multi-year $350-million expansion and renovation. This enormous undertaking, which began back in 2002 and was largely privately funded, was designed to vastly improve the visitor experience on a number of fronts and elevate what was already an impressive cultural institution to the level of extraordinary. Throughout the tenure of the project, ALL was on site to clear the way for progress and help erect and set pieces relevant to the new construction. Overarching project work would include restoring architecture, increasing gallery space, the addition of two wings, and the construction of a beautiful, large glass atrium. As an example of the assistance provided for the atrium, ALL lent a hand with a Grove GMK 5240, which helped construct a Haki scaffold to hold the temporary roof during installation, and assisted with erecting steelwork for skylights. A fine dining restaurant, Provenance, was also ensconced, special exhibition spaces were upgraded, and visitor amenities were improved upon, including creating covered parking. The work on this free museum was the largest cultural project in Ohio's history, besting even the construction of the Rock and Roll Hall of Fame and Museum ($92 million) and the Center of Science and Industry (COSI) in Columbus ($125 million).
HORSESHOE CASINO PEDESTRIAN BRIDGE
Cleveland's weather can be rough in the winter, particularly downtown, where Lake Erie's icy gales blow fiercely. In the fall of 2013, work began in earnest on a 175-foot, glass-enclosed pedestrian bridge, which would eventually connect the downtown Horseshoe Casino to its parking structure across the street. This enclosed pathway provides an added layer of convenience for casino visitors wishing to avoid the elements. ALL provided two all-terrain cranes and two rough-terrain cranes for this fast-paced job, which had to be completed in only a few months: a Liebherr LTM 1250-6.1 (300 USt), a Grove GMK 6250L (250 USt), a truck crane (100 USt), and a Link-Belt RTC-80100 Series II (100 USt). The RT was used to build the pedestrian bridge's frame on site, which was then pulled into position on skates. The Link-Belt RTC and Liebherr then worked together to lift the frame to its permanent second floor installation height, diagonally across Ontario Street and Prospect Avenue, while the connecting end piece was then fabricated and attached at the job site. The $5.6-million pedestrian bridge opened in December 2013.
These seven projects are only a small sampling to illustrate the groundswell of growth and restoration projects happening across Northeast Ohio, while other projects reach the final planning stages or are on the verge of breaking ground. From projects to expand University Hospitals and the Cleveland Clinic, to the dozens of commercial buildings being gutted and rebuilt as residential in response to the growing demand for urban living, the rebirth of this Midwest city is impressive and drawing new visitors and residents to the region every day.
# # #
Originally published: Fall 2014 Lift Line magazine