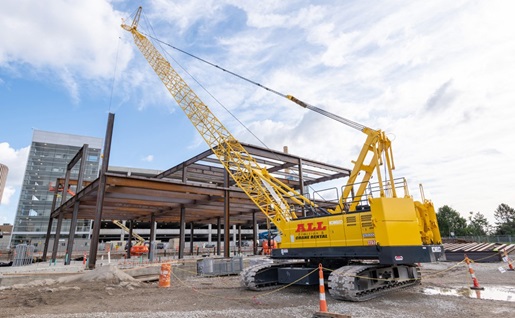 Cleveland hospital build demonstrates the many meanings of the ties that bind
The word "family" can have many meanings, from those blood ties that are easily understood up to larger ideas like community. A current construction project on Cleveland's west side encompasses the concept of family in its many forms.
It all starts with the Cleveland MetroHealth Hospital campus and its planned new 11-floor, 270-room hospital. MetroHealth is the anchor of Cleveland's West 25th Street neighborhood. It is a guardian of health, a landmark in the community, and a sign of the promise of quality care for all residents. More than simply a new health care facility, the health system's new construction project is meant to do nothing less than act as a catalyst to revitalize the entire area.
To that end, many familiar faces are involved in the project, including Cleveland-based ALL Erection & Crane Rental. It's the headquarters of the ALL Family of Companies (there's that word "family" again), which has locations throughout North America. In essence, the cranes are helping to build a new hospital for ALL's neighbors—their extended family.
ALL is keeping the cranes in the family, too, as they are providing the rental of three 80-USt Kobelco CK800G-2s for the work, and ALL is an authorized Kobelco dealer, too.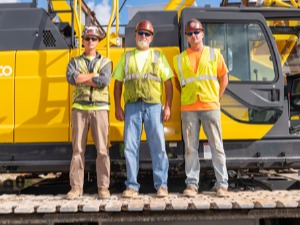 The family theme gets even deeper when you factor in the Feiler family, which is operating all three Kobelco cranes for ALL on the hospital site. Dean Feiler Sr., a 35-year veteran of ALL; his son, Dean Jr.; and his nephew, Alex Feiler, work side-by-side on the jobsite every day.
ALL became an authorized dealer of Kobelco cranes in 2017, heralding the brand as a global leader in smart engineering and the environmentally conscious manufacturing of next-generation cranes. Mike LiPuma, sales representative from ALL Erection & Crane Rental, says Kobelco CK800G-2 cranes are a go-to for early site work in high-rise construction.
"It's the machine of choice for that type of work because they work faster than a regular hydraulic or all-terrain crane," said LiPuma. "They're more efficient and can get around the site easier. For sites with firm, compacted ground, these Kolbelcos have a lot of upside."
This 80-USt capacity model hits a sweet spot in steel erection and general construction, providing efficiencies from delivery to assembly to operation. The main boom ranges from 50 to 200 feet, with 30 to 60 feet of jib.
It is a next-level machine with completely upgraded componentry. Its advanced telematics come standard, with detailed daily usage reports that make planned maintenance a breeze. It has an all-new engine that complies with EPA Tier IV final standards. The auto start/stop feature can save up to 30 percent on fuel consumption, plus it offers different counterweight configurations, and the counterweights can be shipped completely flat.
As for the Feiler family, Dean's older brother (and Alex's dad), Art Feiler, was a longtime ALL crane operator who retired a decade ago. Alex is now a six-year veteran and Dean's son, Dean Jr., has 10 years on the job with ALL.
"Getting to watch them work every day, I'm proud of the professionals they've become," said Dean Feiler Sr. "Not everyone can do this job, but they've both put in the hard work and are now veterans in their own right."
here are Feiler grandchildren, too, and although they haven't shown an interest in the family business yet, Feiler Sr. isn't ruling out a third generation picking up the mantle. "If it happens, I hope I'm around to see it," he said.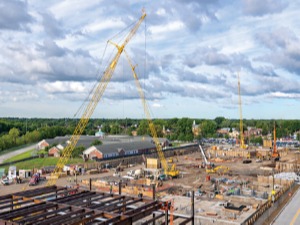 Feiler said that he, his son, and his nephew get frequent ribbing from other workers about how every workday is a "family reunion." Given the many aspects of family evident on this seemingly ordinary construction site on Cleveland's west side, the description is apt and laden with meaning.
About ALL
The ALL Family of Companies is the largest privately held crane rental and sales operation in North America. Our strategically located branches have access to one of the world's largest and most modern fleets, operating under the ALL, ALT, Central, Dawes, and Jeffers names. For a rental quote: 800-232-4100 or www.allcrane.com.