ALL Family of Companies Corporate Headquarters
The ALL Family of Companies
The ALL Family of Companies is headquartered just a few miles down the road from the company's flagship yard, ALL Erection & Crane Rental Corp., in Cleveland. Although administrative offices were originally located at the yard, they moved to a larger, world-class facility in 2008. Our headquarters offer support to all of the ALL Family members: Jeffers, Central Contractors, Dawes Rigging & Crane Rental, ALL Crane Rental, ALT, ALL Tower Crane and ALL Aerials. You can contact the branch nearest you or our team here and we'll help you with your crane rental needs. Buttons: CAREERS: Join the ALL Family Team! PARTS: parts@allcrane.com SALES INQUIRIES: info@allcrane.com
Fleet Highlights Include
The ALL Family of Companies recently added its first Liebherr crawler to its fleet. The LR 1800-1.0 is the most powerful crawler crane in its class, offering 880 USt and 663 feet of hoist height.

ALL has the largest fleet of Liebherr all-terrain cranes in the Unitied States. We've recently added 21 new ATs to our fleet. The new All-Terrain cranes include: LTM 1120-4.1, LTM 1130-5.1, and LTM 1230-5.1; three each of LTM 1160-5.2 and LTM 1450-8.1; and one each of LTM 1110-5.1, LTM 1150-5.3, and LTM 1650-8.1.

In addition to its local fleet, this branch benefits from the entire ALL Family fleet, including crawler cranes (up to 1,200 USt), all-terrain cranes (up to 900 USt), hydraulic truck cranes (up to 115 USt), rough terrain cranes (up to 165 USt), industrial cranes (up to 25 USt), tower cranes (up to 35 USt), and mini crawler cranes (up to 4.24 USt).

This branch also offers a wide range of aerial boom lifts and scissor lifts (MEWPs) as well as telehandlers and material handlers.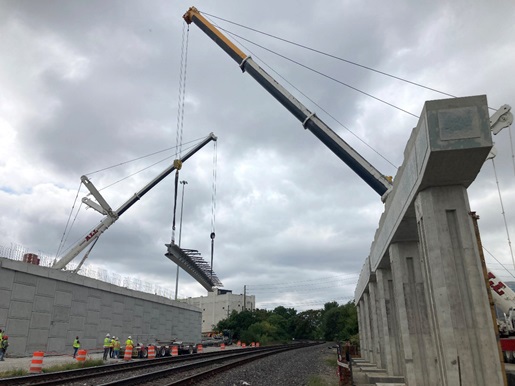 Off to the Races
Nov 10, 2022
After a productive year, crane work ends on Indianapolis' huge highway project