ALL Crane Rental of Tennessee, LLC
Back to branch search
ALL Crane Rental of Tennessee, LLC
1126 Dutch Valley Dr.
,
Knoxville
,
TN
37918
Toll Free:
800.603.7798
Main:
865.686.0707
Service:
865.686.1682
Parts:
865.686.0707
Fax:
865.687.5740
Contact This Branch
Crane Rental in Knoxville and Nashville, Tennessee
ALL Crane Rental of Tennessee opened in 1999 and continues to provide its customers with a well-maintained, modern fleet of cranes and equipment for the residential, commercial, industrial, power, chemical, and road-building industries. The branch is recipient of a Supplier of the Year award from the Associated General Contractors (AGC) of Tennessee - Knoxville Branch and has won awards for its sterling safety record.
Fleet Highlights Include
Two Liebherr LTM 1450 (500 USt) all terrain cranes as well as a brand new LTM 1060 (70 USt).

In addition to its local fleet, this branch benefits from the entire ALL Family fleet, including crawler cranes (up to 1,200 USt), all-terrain cranes (up to 900 USt), hydraulic truck cranes (up to 115 USt), rough terrain cranes (up to 165 USt), industrial cranes (up to 25 USt), tower cranes (up to 35 USt), and mini crawler cranes (up to 4.24 USt).

This branch also offers a wide range of aerial boom lifts and scissor lifts (MEWPs) as well as telehandlers and material handlers.
Industries We Specialize In
ALL Crane Rental of Tennessee can help you get the right lift equipment for your project. Some of the industries we specialize in include roads and bridges, wind energy, vertical construction, marine or maritime construction, facility maintenance, HVAC rooftops, steel erection, precast, power plants, waste water facilities, industrial, and higher learning institutions and universities.
Jeff Joray
Service Manager
865.291.1682
Daniel Bolling
Contracts/Bare Rentals
865.291.1679
Shaun Ray
Dispatcher
865.441.2303
Billy Vaughn
General Manager
865.686.0707
---
Service Area
TENNESSEE
Knoxville, Kingsport, Chattanooga, Nashville
KENTUCKY
Central and western cities
NORTH CAROLINA
Western cities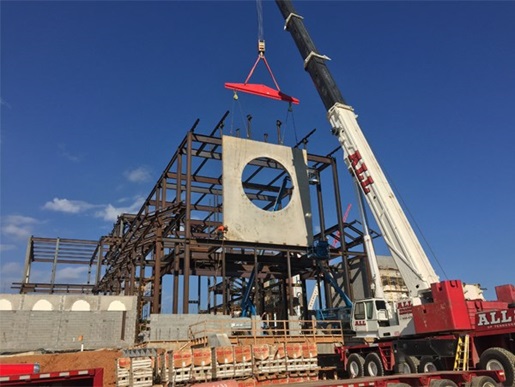 A HIGHER CALLING
Feb 28, 2019
ALL Crane Rental of Tennessee helps build new catholic cathedral. All jobs and all customers are important, but some jobs make you feel like you're reporting to a higher authority. This was no doubt the case when construction crews took on the project to build the new Cathedral of the Most Sacred Heart of Jesus Catholic Church in West Knoxville, Tennessee.