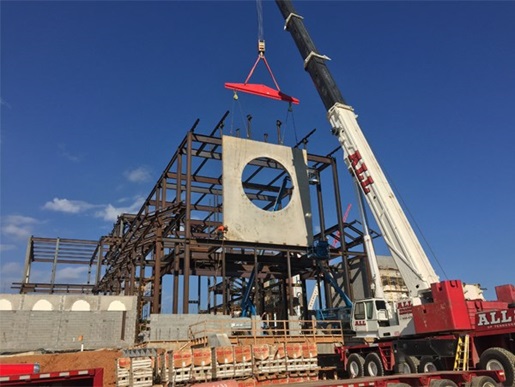 All jobs and all customers are important, but some jobs make you feel like you're reporting to a higher authority. This was no doubt the case when construction crews took on the project to build the new Cathedral of the Most Sacred Heart of Jesus Catholic Church in West Knoxville, Tennessee. The building is the mother church for more than 70,000 Catholics living in East Tennessee.
Merit Construction of Knoxville was general contractor on the job. All Crane Rental of Tennessee, a member of the ALL Family of Companies, provided cranes, operators, and other strategic support for the project.
The 28,000-square-foot cathedral, well-known in the area, is topped by a highly visible dome that rises 14 stories. Inspired by a dome on a church in Florence, Italy, it is eight-sided, clad in zinc, and topped with a shining cross. Visible from nearby Interstate 40, the church is a local landmark. At a cost of $30.8 million, it was built with the intent to serve the area for the next 250 years.
"When you build something you intend to last for 250 years, it's a statement that you intend to be here for 250 years," said Father David Boettner, Sacred Heart rector and diocese vicar general, speaking to local media. "The church is here to stay, and it wants to be part of the community that it is in."
Building something to last for two-and-a-half centuries also requires the right craftsmen, which is where the contractors and ALL Crane come in.
Cranes provided by ALL Crane included a mix of crawlers, rough-terrain cranes, and boom trucks. The package included a Link-Belt 218 HSL 110-ton crawler crane with 180 feet of main boom and 30 feet of jib offset 15 degrees; a Grove RT890E 90-ton rough-terrain crane with 142 feet of main boom; a Link-Belt HTC-8675 Series II 75-ton hydraulic truck crane with 127 feet of main boom; and a Manitex 30112S 30-ton boom truck with 112 feet of main boom
The cranes were kept busy on the site for more than a year, serving three different contractors. "We were there early on to remove the bell tower from the old church building, which will remain on site and is being converted into a community center. Then we provided lift services for virtually every aspect of construction," said Mike Bartholomew, sales rep for ALL Crane Rental of Tennessee. "We assisted steelworkers, roofers, masons, concrete workers, and painters."
Bartholomew believes this versatility—an ability to provide a custom crane package that precisely suited the site's needs—is what helped ALL Crane get the work.
"It's one of the cornerstones on which our business is built: the ability to match the right crane with the right job," said Bartholomew. "And for many jobs, that means being able to assemble a mix of cranes to serve diverse functions and, in this case, diverse contractors. With a national footprint, we are able to bring in cranes from other yards when necessary to round out the perfect team."
Construction pieces to be set included 400 tons of structural steel and 111 concrete piers drilled into bedrock. The dome, the signature piece of the project, also relied heavily on the cranes to make it a reality.
"We set the steel that acted as a framework, as well as the concrete panels below the dome," said Bartholomew. "Then we used the Link-Belt LS218 HSL to lift the zinc shingles that would clad the dome."
The day the cross was set atop the dome was a day to remember. While still on the ground, it was blessed with holy water and prayed over by clergy before being lifted 144 feet in the air and set in place. Now, people in West Knoxville can see it for miles around.