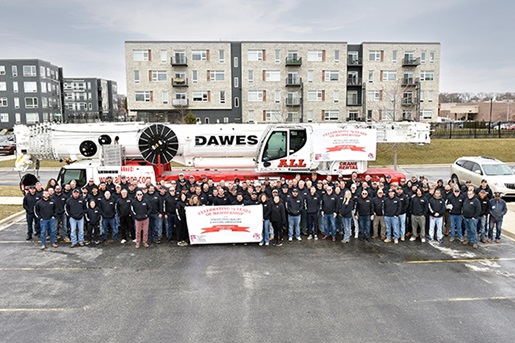 Seventy-five years ago, the organization that would become the Specialized Carriers & Rigging Association (SC&RA) was born, and Dawes Rigging and Crane Rental, a member of the ALL Family of Companies, was there as one of eight charter members.
Dawes has been formally recognized for this, earning its 75-year longevity award. In addition, the branch was honored with safety awards for crane operation and transport.
The beginnings of SC&RA reach back to 1947, when it was founded as part of the Local Cartage National Conference (LCNC) of the American Trucking Associations (ATA). The following year, the Heavy Haulers, Machinery Movers and Erectors Section of the LCNC (the precursor to SC&RA) was formed, with Dawes and seven other companies participating. Today, membership tops 1400 companies located in nearly 50 countries
Dawes general manager Steve Freckmann is a longtime believer in the value of SC&RA, including a decade and a half serving on various committees, with a chairmanship of the crane and rigging group and a three-year term on the board of directors. He currently serves on the Crane & Rigging Group Labor Committee.
"From the networking opportunities SC&RA provides, to ongoing programming, to legislative and regulatory advocacy at the state and federal levels, no other organization has done more to advance our industry," said Freckmann. "It is truly the central hub of information and action that moves all of us in this business forward."
In addition to the monumental longevity award, 14 Dawes crane operators received the Operator Safety Award recognizing 10,000 hours without an accident or incident. Driver Karl Jablonski earned the Driver Safety Award for his own 10,000-hour safety achievement.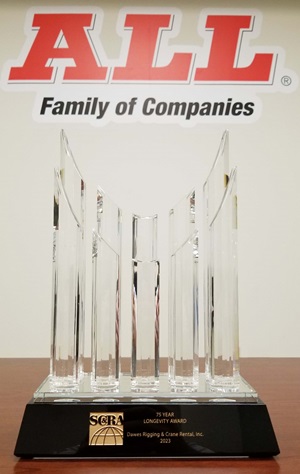 These individual safety awards have become a regular occurrence for Dawes team members when SC&RA hands out the annual honors. "Safety is an investment in your future," said Freckmann. "The employees who win this award are proud of the national recognition they receive for their accomplishments. It strengthens their safety awareness and drive to want to win the honor again. Newer operators and drivers see the vests, the patches, and the recognition winners earn, and they want to earn that, too."