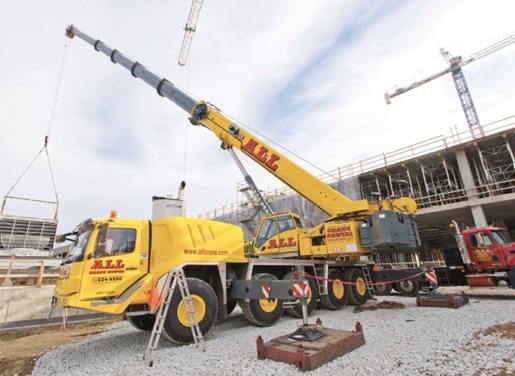 Construction jobsites and technologies have evolved over the years, and partner companies that embrace new methods and challenge traditional theories stand out as successful partners for project owners. When construction partners employ these innovations, owners see dramatic improvements in project workflow and profitability. One recent evolution is the Shared Equipment Program (SEP), which fosters teamwork among all construction stakeholders, contractors, and sub-contractors and reduces project costs.
Under an SEP, a project's general contractor acts as the primary renter of all lift equipment for the job and then rents it to the subcontractors— a method that helps to eliminate waste, cut costs, improve productivity, and create positive outcomes. The ALL Family of Companies, the nation's largest privately owned renter and seller of cranes, has vast experience with SEPs, recently assisting the Welty Building Company, headquartered in Akron, and their lead superintendent, Tom Conti, on successful completion of a multi-phase $200 million construction project at Akron Children's Hospital.
The project highlighted the efficiency and cost savings of implementing what the ALL Family calls a Shared Equipment Program and what Welty referred to as an Integrated Project Delivery (IPD) strategy.
For example, just one phase of the Akron Children's Hospital project, the Akron Children's Kay Jewelers Pavilion, resulted in a $40 million reduction in cost and a completion date two months ahead of schedule. The story was much the same for construction of the hospital's eight-story Considine building, which was finished more than a month ahead of schedule and saved $27 million in costs.
Shared Equipment Program: How it works best
ALL's Shared Equipment Program requires the sharing of equipment between subcontractors, who are asked not to factor equipment costs into their individual bids. While the usual method is for crews to arrange their own equipment rentals, many times that results in wasteful redundancy. And equipment redundancy does more than add costs; it adds a level of congestion to job sites where space is a premium, which can affect everything from traffic to safety.
ALL sales representative Mike Garrity worked with Conti to secure the Akron Children's Hospital contract. The two had previously joined forces on numerous projects, enabling Conti to become familiar with the breadth and depth of ALL's fleet. But it wasn't merely ALL's extensive equipment reserves that sealed the deal, although Garrity jokes that "We're definitely the Home Depot of lift equipment." Instead, it was ALL's willingness to collaborate and lend "heads to the process" that really made the equipment sharing process successful.
Leveraging ALL's category expertise benefited the cooperation process as well. The ALL Family of Companies long ago divided their fleet into dedicated equipment categories headed by experienced, top-level managers. Those experts—whether in tower cranes, truck cranes, or aerials—are the ones who sit at the table with general contractors, offering their particular experience to help spec the right equipment to meet specific challenges of a project and keep costs in check.
"Coordination, cooperation, and competence are the keys to success," explained ALL Crane sales representative Brian Meek. "We were there every week, division heads and sales members alike, for weekly coordinating meetings. It was truly collaborative."
Scheduling for success
These daily and weekly planning meetings—facilitating a process for understanding each other's schedules and upcoming equipment needs—are pivotal in an SEP.
For example, if one crew requires a telehandler for just three days and another needs it for two, project managers designate a shared usage schedule. Just as important, if a scissor lift is currently on, for example, a fifth floor accommodating electrical contractors, other trades in the same area might adjust their work schedules to take advantage of nearby equipment.
Said Garrity, "Significant savings are achieved by careful scheduling. The equipment is there and at the ready, but, if for some reason one crew can't be accommodated, another piece of equipment is rented from ALL. No one is left wanting, as the sharing allows for some flexibility in the total budget."
Scheduling requires meticulous strategic planning.At the project site, Conti maintained an equipment board listing all the machines that were currently on site. Scheduling was further affirmed at the daily 6:30 a.m. huddle, when superintendents and foremen discussed the tasks to be completed that day. On Fridays, discussion was directed toward the next six weeks of work, ensuring that every team would be on track to achieve its goals.
"There is generally between 30% and 35% waste on a project of this size," Conti reported. "That would amount to a staggering $60 million in a case like this. We have to contain our costs, and an excellent way to do that is to strategize our equipment usage. ALL works with us as a team, and that's exactly what we need."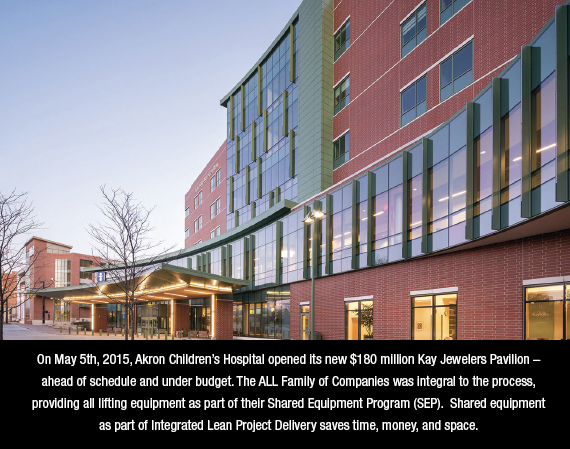 Teamwork includes equipment maintenance
Another facet of the team's work was keeping all of the equipment in good working order. An on-site ALL mechanic was charged with maintaining and repairing the equipment should any issues arise. As would be the case in more traditional rental projects, whenever equipment comes off rent, ALL mechanics ensure it is clean and rent-ready for the next rental customer. With the Shared Equipment Program, the process is no different. "Having a skilled mechanic on site helps avoid downtime and delays, and it's our job to help ensure everything continues to run on schedule. I mean, it's why we have the scheduling meetings," Meek said with a laugh.
ALL equipment on the pavilion site included two tower cranes, 25 aerial units, four forklifts, and several truck cranes. At the Considine building project, ALL Aerials supplied 87 pieces of aerial equipment.
"The whole concept is about teamwork, and everyone's a fully engaged participant," said Conti. "We couldn't have achieved such success without ALL. They're the only company that can offer such a range of equipment and such a strong degree of expertise."