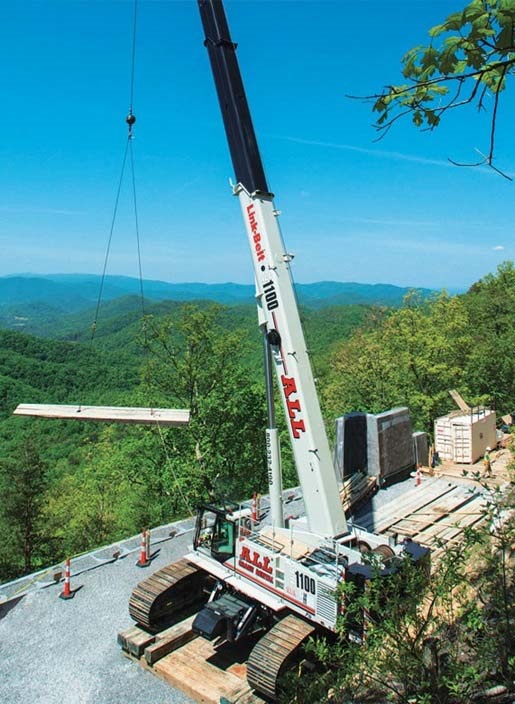 Maneuverability and fast setup among popular features
Hydraulic telescopic crawler cranes, commonly known as telecrawlers, have been around since the 1960s. But it's only within the past decade that they've become increasingly popular on a multitude of job sites. "Steadily advancing technology has made them so versatile," said Rick Mikut, crawler crane division manager for the ALL Family of Companies. "The footprints of telecrawlers have gotten narrower, booms are lighter, and transportability has improved. They have evolved into powerful, agile machines."
Telecrawlers marry the mobility and stability of a crawler crane to the quick-setup advantages of a telescopic all-terrain or rough-terrain crane. Like lattice boom cranes, telecrawlers exhibit high maneuverability, but require no space or time on-site to build the boom. This combination provides a "best value in its class" advantage.
"Telecrawlers become indispensable on work sites where a rough-terrain or all-terrain crane can't go, or on a site that a conventional crawler crane utilizing flat pads can't navigate," said Mikut. "They are popular where ground conditions are poor and lift sites can be far apart. After experiencing the versatility of a telecrawler, many customers have told me they'll never use any other kind of crane."
New higher-capacity telecrawlers excel in environments common to road and bridge construction. For example, machines like ALL Crane's 250-USt capacity TCC-2500 can self-erect in just a few hours and are easy to operate.
A telescoping boom provides a major advantage. Unlike a traditional crawler, the telecrawler's boom is not fixed, so obstructions do not require moving the crane and rebuilding the boom. Operators can just bring the boom into more easily maneuver around overhead structures—which can save as much as half a day of time. For road and bridge construction, such as highway widening projects, productivity-enhancing savings like this can add up.
Savings aren't just realized when using telecrawlers in place of traditional crawlers. These machines also provide unique advantages over other hydraulic cranes, thanks to their increased mobility on crawler tracks and their ability to handle picks without needing outriggers. Less ground pressure is exerted by a telecrawler's tank-like tracks, so the total weight is spread over a smaller area. This allows the crane better access to tight corners, narrow alleys, and steep hills that a conventional crawler crane might not be able to handle.
Agility on uneven terrain is another advantage. Working off-center comes easily to telecrawlers. Whereas most wheeled hydraulic boom cranes, for example, require absolute centering for proper balance when lifting, the newest telecrawlers have computer systems and charts that help level them, even on irregular terrain.
Telecrawlers are well-represented in the ALL fleet. The company even had a say in the creation of the Link-Belt TCC-2500. ALL representatives were invited to Link-Belt's test pad in Louisville, Kentucky, to check progress and offer input. Their feedback was then incorporated into subsequent prototypes of the equipment. "They made adjustments based on our comments on the lifting experience," said Mikut. "We ended up buying the first six off the line back in 2017." Similarly, and in its tradition of buying first-off-the-line new crane models, ALL bought the first 10 TCC-750 (75 USt) telescopic crawlers when the model was introduced in 2009. In 2011, ALL bought the first three of the Link-Belt TCC-1100 (110 USt).
About ALL
The ALL Family of Companies is the largest privately held crane rental and sales operation in North America. Their strategically located branches have access to one of the world's largest and most modern fleets, operating under the ALL, ALT, Central, Dawes, and Jeffers names. For a rental quote: 800-232-4100 or www.allcrane.com.