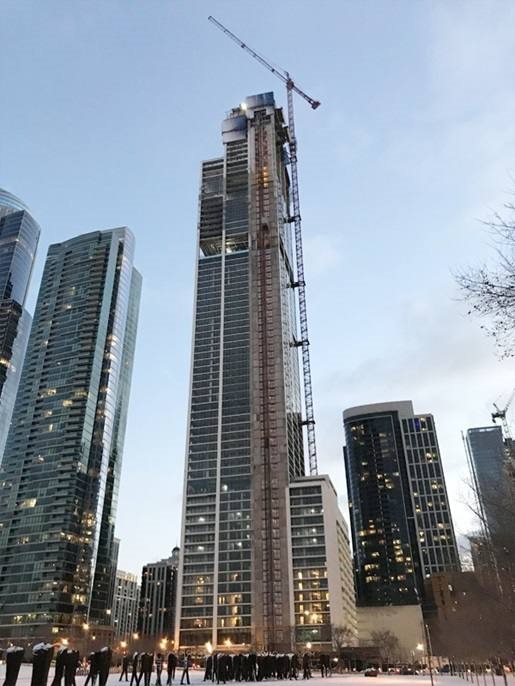 In the past few years, very few cities in America have seen more tower crane construction than Chicago. On any given day, dozens of towers dot the horizon—evidence of a building boom totaling in the billions of dollars, with no signs of slowing.
The current king of the landscape, a Potain MD 485 tower crane, was provided and erected by Central Contractors Service, Inc., a member of the ALL Family of Companies. Standing tall above all others in Chicago, it rises to approximately 1,000 feet—nearly a fifth of a mile.
It is helping to build one of the most highly anticipated high-rise residences in the city, the NEMA Chicago apartment tower. The 76-story skyscraper, with panoramic views of downtown and Lake Michigan, will have 800 units when complete, as well as 12,000 square feet of retail and 600 parking spaces.
"Having the highest crane in the city, in such a visible location at the south end of Grant Park, is a fitting symbol of Central's presence in the booming Chicago market," said John Martello, general manager of Central Contractors Service. "Our tower crane technicians are seasoned veterans of the Chicago construction climate. They possess the knowledge and experience to deal with all challenges that the city can deliver. Whether it's logistical challenges or brutal weather, the team always pulls through to get the job done."
Central Contractors Service placed the Potain MD 485 in spring 2017, with the current 1,000 feet representing its final hook height. Scaling such heights did come with a challenge or two, particularly related to the wire rope hoist needed for the job. "We had to find one that could withstand the heavy work load that was expected, as well as perform well at the final height," said Martello. "With some research and the experience that our team brought to the job, we used three separate wire ropes to accommodate the stature of this crane as it climbed to greater and greater heights."
The job began with the standard 1,500-foot wire rope, then switched to 1,850-foot rope with 4-part reeving, and for the final phase is finishing with 2,850 feet of wire rope with 2-part reeving. With quality wire rope and highly experienced operators, each phase has been performed with no issues. The crane itself has performed very little downtime over the life of the project, which Martello attributes to the service provided by his team.
James McHugh Construction, which has a two-decade relationship with Central Contractors Service, is the general contractor on the job. The NEMA apartment tower is expected to open to tenants next year. Like the tower crane that's raising it, the finished building will be one of the tallest in the city.