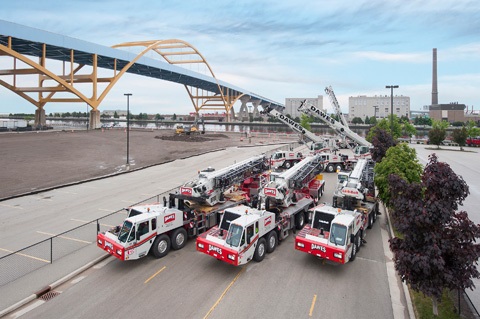 July 3, 2018—Milwaukee-based Dawes Rigging & Crane Rental, a member of the ALL Family of Companies, has taken delivery of six new Link-Belt truck cranes. Three different models are represented in the package: one HTC-8660, two HTC-8675 Series II, and three HTC-86100-XL, with capacities ranging from 60 USt to 100 USt.
The cranes were ordered at the dawn of the year and began arriving in April. By the end of May, all six were delivered. It's a rarity that a half-dozen pieces of brand new stock from the same manufacturer are delivered so close together, so Dawes took advantage of the opportunity by taking a family photo of the newly acquired cranes on the banks of Lake Michigan.
"These are all versatile machines," said Stew LaPointe, Dawes rental coordinator. "As a full-service dealer of the Link-Belt brand, there's no better way to showcase their power and flexibility than by making them available for rental across the deep reservoir of construction and contracting professionals throughout Wisconsin. This equipment can be used for everything from residential carpentry to all types of construction—setting structural iron, precast concrete, HVAC work. They will be highly in-demand by our customers."
As with every ALL Crane branch, Dawes cultivates a reputation for maintaining a crane fleet consisting of the latest model years. This acquisition helps to offset the recent sale of some older equipment.
"We like to have the latest equipment in the rental fleet. Having six cranes come within a month and a half is something you don't often see, but it demonstrates our commitment to staying current," said LaPointe. "Our hope is that customers know they're dealing with a company that's dedicated to not only updating our fleet, but also employing the safest crane technology on the market today."
The cranes will be dispersed among Dawes' locations in Milwaukee, Madison, and Kaukauna, Wis.
# # #