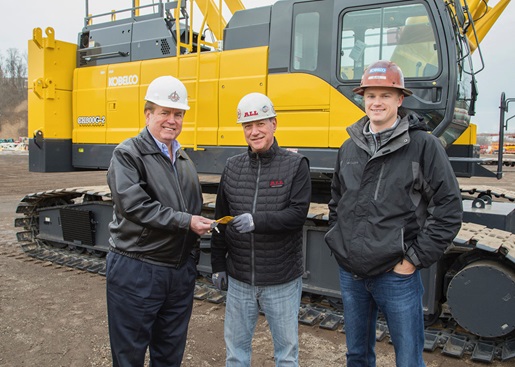 December 21, 2017—The ALL Family of Companies has made its inaugural sale as an authorized Kobelco dealer. Kelley Steel Erectors purchased a Kobelco CK800G-2 crawler crane from ALL and took delivery of the machine during a Dec. 21 key ceremony at the ALL Crane yard in Cleveland. The sale of the new Kobelco unit was one of several on which the two companies plan to collaborate.
Cleveland (Ohio)-based Kelley Steel Erectors, which will celebrate 60 years in business in 2018, serves customers throughout Ohio, Pennsylvania, and Florida, primarily in the erection of structural steel framing for major construction projects and the rental of cranes through its Kelley Equipment Company of Clearwater, Florida. The Kobelco CK800G-2 will remain in the Cleveland market for work on a full slate of local projects scheduled into the new year.
The 80-USt capacity model hits a sweet spot in steel erection and general construction, providing efficiencies from delivery to assembly to operation. The main boom ranges from 50 to 200 feet, with 30 to 60 feet of jib.
Dan Gold, CEO of Kelley Steel, said the company has had its eye on the CK800G-2 for some time. "It is a next-level machine with completely upgraded componentry. Its advanced telematics come standard, with detailed daily usage reports that make planned maintenance a breeze. It has an all-new engine that complies with EPA Tier IV final standards. The auto start/stop feature can save up to 30 percent on fuel consumption, plus it offers different counterweight configurations, and the counterweights can be shipped completely flat."
Gold added, "I give our owner Mike Kelley a lot of credit for making the investment in this versatile machine."
Under the leadership of the founder's son, Michael J. Kelley, Kelley Steel has become a recognized leader in the construction industry, providing turnkey industrial and commercial construction services for the steel, power, manufacturing, chemical, mining, and environmental industries.
Gold also cites the value-add of buying from ALL Crane. "We chose to purchase from ALL Crane because we were looking for a dealer who could service our account, who has access to the parts we need, and offers 24-hour service. ALL, also being in the rental business, understands that when you need something, you need it now. You can't wait two or three days for parts to fix your crane."
In a noteworthy parallel, ALL Crane opened for business just five years after Kelley Steel. "In a way, the two companies have grown up together," said Gold. "That makes this transaction even more special."
In July, the ALL Family of Companies became an authorized dealer for Kobelco Construction Machinery USA for the exclusive territory of Ohio, West Virginia, and Western Pennsylvania, including Pittsburgh. At the time, the company cited Kobelco's global leadership and respect for the territories of its dealer network.
# # #
Pictured (left to right):
Daniel H. Gold, Chief Executive Officer, Kelley Steel Erectors, Inc.
Michael LiPuma, Sales, ALL Erection & Crane Rental, Inc.
Blake Nommensen, Western Regional Sales Manager, Kobelco North America