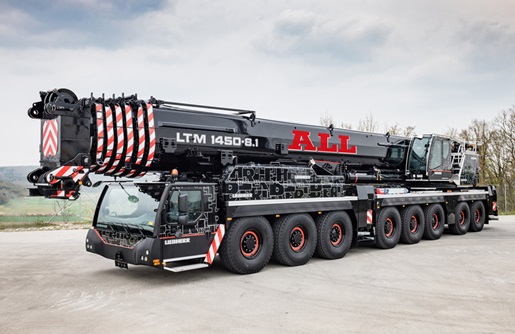 December 19, 2017— The ALL Family of Companies will take delivery next month of two 500 ton Liebherr LTM 1450-8.1 all-terrain cranes. In keeping with ALL's strategy of working with manufacturers to obtain the newest and best machines, the company ordered these cranes before they had even made their U.S. debut at last spring's CONEXPO-CON/AGG show in Las Vegas.
With a powerful 279-foot telescopic main boom and a full range of lattice jib attachments, this Liebherr AT can handle jobs at — and often above — its 500-ton capacity. The LTM 1450-8.1 was manufactured to accommodate a variety of transport weight and machine axle configurations, making it one of the most road-friendly 8-axle ATs on the market.
"We're always scanning the horizon of the industry anticipating customer needs in the months and years ahead," said Hutton Strader, business development specialist for ALL. "It's why we frequently pull the trigger on orders very early in the life of a new model. We want to make sure we are serving our customers not just today, but in the future."
The LTM 1450-8.1's VarioBallast® system adds capacity when needed, but still allows the nimble AT to work in spaces where many other large cranes simply will not fit. There is great potential for the machine on wind farms, refineries, chemical plants, as well as in setting up tower cranes.
"In addition to its obvious power and versatility, the LTM 1450-8.1 is designed with readily transportable weights and dimensions," added Strader. "The speed with which it can be delivered to a site and assembled maximizes uptime for all who use it, positively impacting profitability for our customers."
The machine is ideal for a national crane rental company like ALL, where machines move from yard-to-yard and state-to-state based on market demand or a specific job site's needs. "The new 1450 is accommodating for states with strict axle load limits," explains Strader. "Boom sections two through six are completely removable, leaving just the first main boom section. Front and back outriggers can be removed as well. And this model is Liebherr's fourth mobile crane to feature the new Liebherr single-engine concept, a feature that not only allows for a stronger crane by redistributing the saved weight for structural enhancements, but also reduces engine maintenance literally in half."
Finally, the LTM 1450-8.1 doesn't require a special trailer or a superlift. Liebherr previously has utilized a super-lift attachment for its large ATs, also known as a Y-guy or superlift system. The new LTM 1450-8.1 is designed to achieve strong capacities without the need for a superlift, which saves time during setup, reduces costly trailer loads, and allows for large jobs in confined spaces.
It all adds up an amazing mix of easy transportability, fast set up, and lifting power. "Customers are going to love it," said Strader.
###