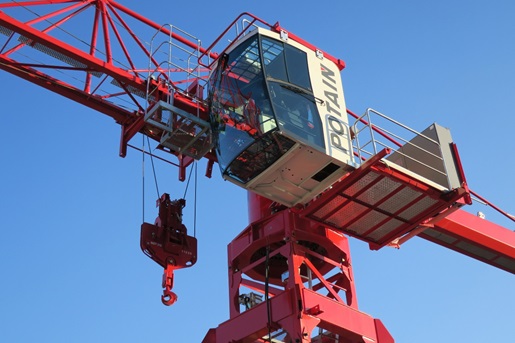 To meet an increased demand for tower crane rental, the ALL Family of Companies announces its purchase of a package of five (5) new tower cranes. ALL's diverse fleet of towers from Manitowoc/Potain and Terex now numbers approximately 100, with capacities ranging from 6 to 35 USt (approximately 5 to 32 mt).

The 5-crane package includes the following:

(2) of the new Manitowoc/Potain CCS City Tower Cranes, model MDT 219 J10 (11 USt/10 mt), with a maximum hook reach of 213 feet (65 m) and a maximum hook height of 231 feet (70 m). Its innovative CCS (Crane Control System) provides fast, time-saving setup and outstanding lift performance. One MDT 219 is already in the ALL fleet and ready to work; the second is due to arrive in August.

(1) Manitowoc/Potain Igo T 130 (8.8 USt/8 mt), the largest self-erecting tower crane from Potain, with a maximum hook reach of 164 feet (50 m) and a maximum hook height of 200 feet (61 m) when using an elevated jib. The new T 130 — the first one in the ALL tower fleet — has a greater capacity than others in its class, offering enormous flexibility with its multiple jib configurations, variable mast heights, and an offsettable jib. The T 130, available immediately, will be put into service by the Pittsburgh branch.

(2) Terex SK 415-20 hammerhead tower cranes (22 USt/20 mt) feature a maximum hook reach of 246 feet (75 m) and a maximum hook height of 214 feet (65 m). These workhorses are a popular staple in the ALL fleet, so the company chose to add two more that have the longer 263-foot (80 m) jib (versus 246 feet/75 m). The SK 415s are due for delivery in July, one of which will go directly to an ALL Crane Rental of Alabama jobsite. It will remain there for a year.

"Tower crane rental rates continue to trend upward," said Clay Thoreson, general manager of ALL's Tower Crane division and 45-year veteran of the tower crane industry. "With the economic recovery in many markets, more buildings are going up on tight city sites that require tower cranes. We've been adding to our fleet in categories where we see growth; last year in luffing-boomed models, the year before in larger hammerheads. Now in 2017 we are filling some of our customers' niche needs."
ALL rents and sells a large variety of lifting equipment, including cranes, boom trucks, aerial lifts and material handlers.
# # #