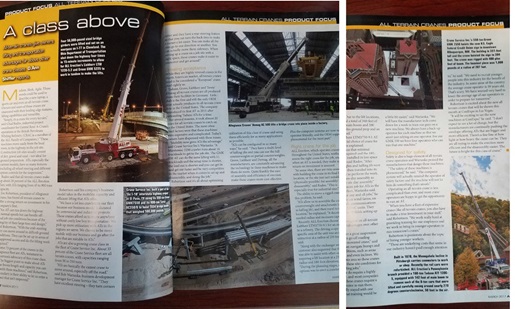 Modern. Sleek. Agile. These words could be used to describe a new laptop, a sports car and even an all-terrain crane. Owners and users of these cranes are enamored with their leading edge features, lifting capabilities and versatility.
"Simply, it's a crane for every terrain," said Chad Rados, industrial project coordinator for Central Rent-A-Crane's operations at the British Petroleum Whiting Refinery. (CRAC is a member of the ALL Family of Companies.) "These machines move easily from the local town, to the highway, to the job site. Construction job sites usually consist of dirt, gravel and sand – not ideal for ground preparation. ATs, especially the current models, have so many features including all-wheel steering and different option controls for the suspension."
Rados said that all-terrain cranes make up about 28 percent of the ALL Family fleet, with ATs ranging from 45 to 900 tons capacity.
Jim Robertson, president of Allegiance Crane, has found all terrain cranes to offer a strong return on investment in his company's fleet.
"An AT can run down the highway at normal speeds but can handle off-road job site conditions because of the integrity of their large tires and design," said Robertson. "With the crab steering they can move around in difficult ground conditions. They can be set up in areas of unapproved access and do the lifting work required." Some 75 percent of the cranes in the Allegiance fleet are ATs, testament to Robertson's advocacy of this crane class.
"The biggest point to make about ATs is the boom length and capacity you can get with these machines," said Robertson. "Secondary is their ability to let us enter a project that isn't improved."
Robertson said his company's business model takes in the mobility, capacity and efficient lifting that ATs offer.
"We have a lot less crawlers in our fleet because our business model is dictated by commercial and industrial projects. These cranes afford us to move anywhere without costly low boy transportation. We pick up more utilization with ATs in the regions we serve. We choose to be more mobile with our business and go after the jobs that are suitable to ATs."
ATs are also a growing crane class in the fleet of Crane Service Inc. About 35 percent of the Crane Service fleet are all terrain cranes, with capacities ranging from 50 to 550 tons.
"ATs are basically the easiest crane to move around, especially off the road," said Bob Warianka, business development manager for Crane Service Inc. "They have excellent steering – they turn corners better and they have a rear steering feature so that you can turn the back tires to make a corner a lot easier. You can make all the tires go to one direction or another. You can actually move them sideways. When setting up a crane on a job site with a tight space, these cranes make it easier to maneuver and get around."
GROWING ACCEPTANCE
While they are highly revered cranes in the North American market, all terrain cranes used to be considered a "European" crane. And rightly so.
Tadano, Grove, Liebherr and Terex/Demag all terrain cranes are all produced from their facilities in Germany. Link-Belt is the first and still the only OEM that actually produces its all-terrain crane line in the United States. The company introduced its first AT in 2011 after rebranding Tadano ATs for a time.
For several reasons, it took almost 20 years for all-terrain cranes to catch on in the United States. The most often cited factors were that these machines were expensive and complicated. Today's owners have dispensed with these issues.
"Mobility now gives ATs the advantage," said Crane Service Inc.'s Warianka. "A Manitowoc 2250 crawler runs about 16 truckloads to get to the job site. The GMK 550 AT can do the same lifting with 11 truckloads and the setup time is shorter, the load out is shorter and you can get in and get out faster and be very competitive in the market when it comes to set up and disassembly, and doing the job."
Robertson said it's all about optimizing utilization of this class of crane and using them efficiently for as many applications as possible.
"ATs can be configured in so many ways," he said. "They have a multi-level of luffing jibs and you can use the full counterweights or partial counterweights. Grove, Liebherr and Demag, all the manufacturers, are constantly advancing the technology in these machines to make them do more. Quite frankly the ease of assembly and efficiency of erection make these cranes more cost effective. Plus the computer systems are now more operator friendly, and the OEM support is phenomenal for the most part."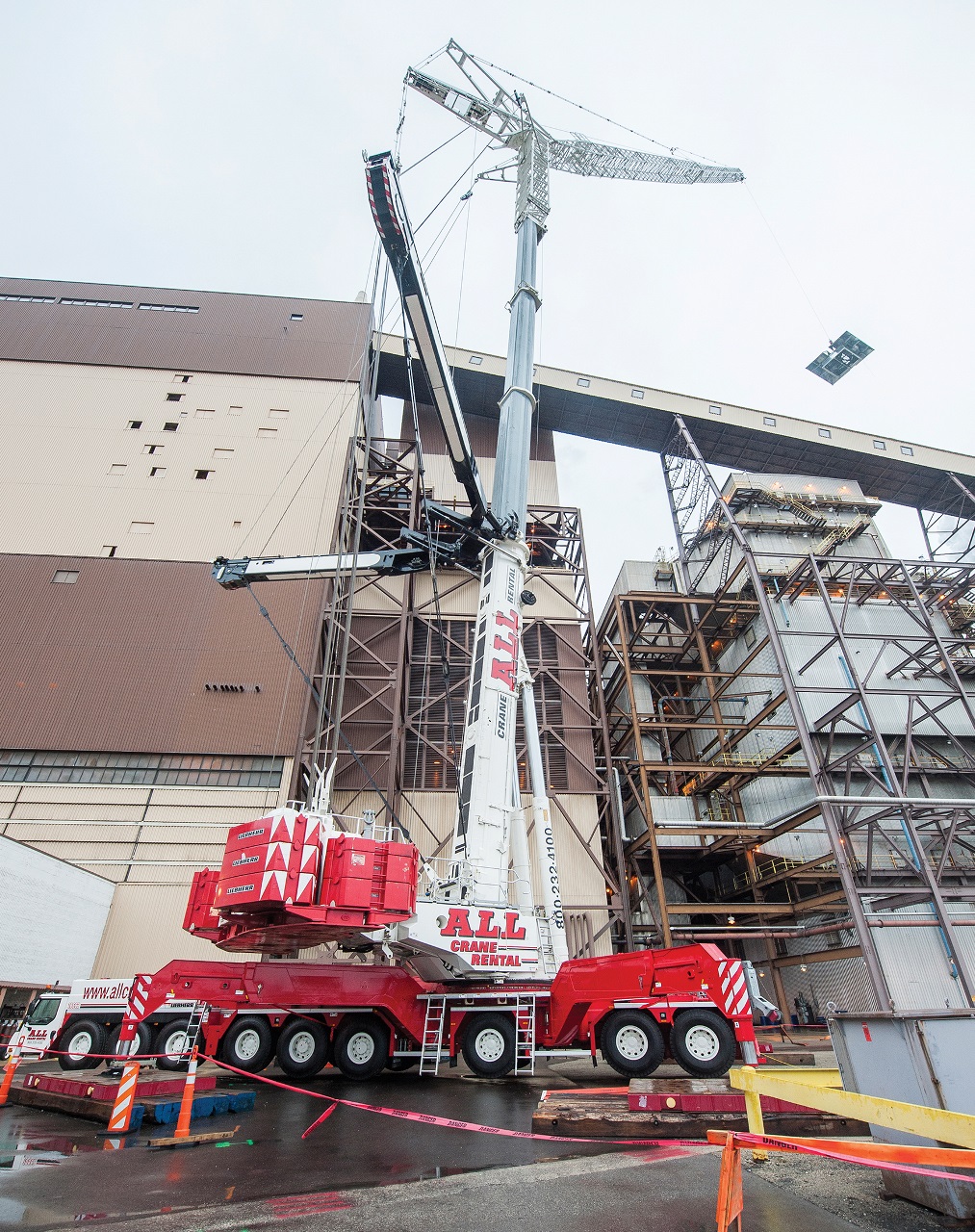 RIGHT CRANE FOR THE JOB
ALL, which operates cranes throughout the United States, works to assess the right crane for the job, and when an AT is needed, they make sure the return on investment is assessed.
"At some sites, there are risks associated with building the crane in its final lifting location, or the site just isn't suitable (physically possible) for assembly/disassembly," said Rados. "This is especially true for industrial sites."
The ability to move a rigged crane solves this problem, he said.
"ATs allow us to assemble the crane, with counterweight and attachments (such as luffing jib), and then travel to the lift location," he explained. "It decreases our needed radius and increases capacity."
Recently ALL chose the Liebherr LTM1750-9.1 for an outage in a refinery. The driving scope for the specific area of the unit was an exchanger extraction at a radius of 210 feet, Rados said.
"Along with the exchanger work, the customer also requested that the crane was able to assist with other outage work requiring a lift location at a 250-foot radius and 180-foot elevation, he said. "During the planning stages, one of the options was to erect a crawler crane in a very limited area. Due to the lift locations, the crawler required a total of 340-feet of boom (140 feet of main boom and 200 feet of luffing jib) plus ground prep and an engineered crane pad."
The 900-ton Liebherr LTM1750-9.1 AT became the beneficial choice of crane for the customer, Rados explained.
"The advantage was that minimal ground prep was required and the 195-foot luffing jib was installed in less space and with less risk," said Rados. "After partial counterweights and luffing jib were installed, the crane then traveled into its final location ready to perform the work. This resulted is a two-day assembly as opposed to a five to six-day assembly."
There's really no main job for ATs in the Crane Service Inc. fleet, Warianka said.
"They are good for any and all jobs," he said. "We used them on wind farms, on refinery turnarounds, communications towers, and setting HVAC units. They are productive in the oil fields setting up drilling derricks."
The suspension design of an all-terrain crane gives it huge advantages over other mobile cranes.
"These cranes have a great suspension system and they can go off roading better than a truck-mounted crane," said Warianka. "They can navigate bumps and rough ground conditions, such as areas that are wet, sandy and even inclines. We are in a mountainous area so these cranes work really well in these site conditions for where we go for lifting jobs."
All-terrain cranes do require a highly proficient operator, and most companies that own and run these cranes require a certified crane operator to run them.
"We have generally stayed with one manufacturer so that training would be a little bit easier," said Warianka. "We will have the manufacturer tech come down for a week to train our guys on a new machine. We always have a back-up operator foe each machine so that we aren't just relying on one operator. For our GMK 550 we have four operators who can run that one machine."
DESIGNED FOR SAFETY
Safety is also a huge element of all-terrain crane operation and Warianka praised the manufacturers that design these machines.
"The safety of these machines is phenomenal," he said. "The computer system will actually remind the operator of safety factors and the machine will not let him do something that's unsafe."
Operating an all-terrain crane is less complicated than ever, and most crane operators are happy to get the opportunity to run an AT.
"When you have a fleet of expensive cranes like all terrain cranes, you also have to make a true investment in your staff," said Robertson. "We work really hard at providing training for our employees and we work to bring in younger operators to run tomorrow's cranes."
Robertson is passionate about the topic of hiring younger workers.
"These are underlying costs that some in our industry haven't paid enough attention to," he said. "We need to recruit younger people into this industry for the benefit of the industry. In some areas of the country the average crane operator is 59 years old. That's scary. We have worked very hard to lower the average age of our operators in order to prepare for tomorrow."
Robertson is excited about the new all terrain cranes that will be shown this month at ConExpo in Las Vegas.
"It will be exciting to see the new machines at ConExpo," he said. "I don't expect to see a lot of change, but the manufacturers are continually pushing the envelope offering ATs that are bigger and more efficient. There's a fine line at how light or how heavy the crane can be. They are all trying to make the erection more efficient and the disassembly easier. The future is bright for this class of crane."
# # #