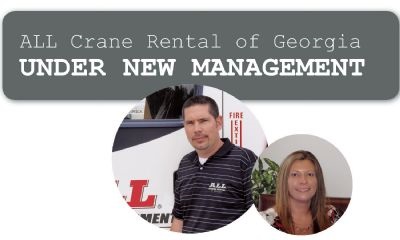 If new GM Jeremy Hunter seems familiar to customers in the area, it's because he's coming home.
Although he spent the last five years in North Carolina as GM of ALL's Wilmington branch, his ALL Family career began in Atlanta in 1997. Before becoming GM, he spent more than a decade as lead dispatch and logistics manager, was an aerial dispatcher, and even worked in the yard.
Hunter's wife, Amanda, has worked for the ALL Family for more than a decade herself—at Dawes and at the Atlanta and Wilmington branches. She is a member of the enterprise-wide best practices group, and will continue her role when she returns to Atlanta.
"Customers in Georgia should rest assured that they are in good hands with Jeremy," said ALL President Michael L. Liptak. "As a company, we are really lucky to have such a knowledgeable team as the Hunters. It is