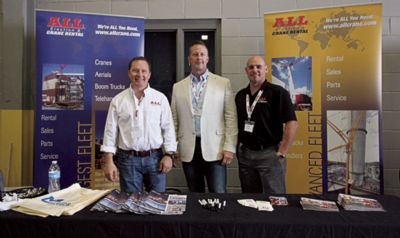 "One of my guys started right out of high school. He's 22 now and has done very well for himself. I'm proud of him," Dawes Service Manager Willie Schneider said. "I do lots of school presentations because I want to get more guys like him before they learn any bad habits."
Unfortunately, bad habits aren't the biggest obstacles Willie and other hiring managers face. As tradesmen begin to retire, the heavy-lift industry faces a critical shortage of skilled labor. "Our fleet is one of the largest and most advanced in the world, but without people to operate and maintain the equipment, that won't matter," said Katie Spahnie, corporate human resources director for the ALL Family of Companies.
Crane and rigging professionals cite a societal push toward a 4-year degree or higher as a major roadblock to recruitment. "But the traditional college route is not for everyone," explains Pat Sienza, an assistant service manager at Dawes. "Being a service tech in this industry offers a tremendous opportunity to have great success. The training is rigorous, but the rewards are worth it."
One of the steps ALL has taken to address the labor shortage is to become a regular sponsor of the
Lift & Move USA series
. The series targets high schoolers and returning veterans and is designed to showcase careers in the heavy-lift industry — a joint venture from SC&RA, KHL Group, and NCCCO.
The ALL Family collaborates with others in the industry to provide speakers and sponsorships that allow the series to travel around the country, giving attendees the opportunity to see the equipment up close and talk to industry professionals. To date, events have been held in Chicago, Houston, and Graham (NC), with the next scheduled for Long Beach (CA) in November 2016.
"Their eyes light up," said operator-turned-sales-specialist
Brian Meek
, who has attended Lift & Move USA events on behalf of ALL. "By the end of the presentations, these kids [and adults] are excited. And they don't all want to be operators. They ask about mechanic and welding positions. Some want to be engineers. We tell them about office opportunities, too, like marketing, finance, sales, legal —
positions that don't require a hard hat
but are still in demand in this exciting industry."
Chad Rados, a project manager for ALL's Central Rent-A-Crane branch, has spoken at several of the events because he's passionate about what he does. "I want people to know that having a job you love is a right, not just a privilege for a lucky few," he said. "And they can find that in this business. I did."
More than 1,500 people attended the first three Lift & Move USA events.
# # #
This article originally appeared in ALL's Lift Line magazine, Fall 2016.