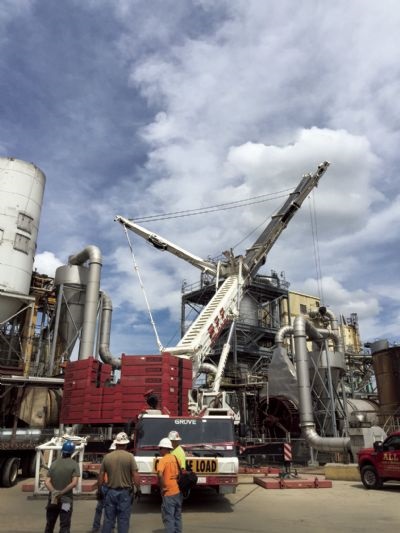 [pictured] ALL's Grove GMK7550, a 550-ton capacity all-terrain crane, was used at a Cargill plant shutdown in Fayetteville (NC). Bad soil conditions surrounding a tank in need of demolition necessitated tight crane positioning and a long boom reach.
-------------------------------
Rich Nomanson, general manager of ALL Carolina Crane & Equipment of Raleigh (NC) sets daily personal goals, which nicely parallel the goals of the entire ALL Family and its Raleigh branch: to improve (his leadership) skills, learn from every situation, and help as many people as possible.
Nomanson brought this drive from ALL's Central Rent-A-Crane in Indiana to the Tar Heel State, where he was named the Raleigh branch's new general manager in the summer of 2015. His core values mirror ALL's commitment to excellence in every location and on every job site.
ALL Carolina's Raleigh branch has a proud history. ALL purchased the former Carolina Crane in 2000 and began to serve a wide range of lifting needs in both Carolinas and in nearby Virginia. With the mountains only two hours away and the ocean an hour away, and with booming building construction and plant jobs (chemical plants, power plant conversions) in the metropolitan areas they serve, there is a steady stream of diverse and challenging work.
IMPROVING EVERY DAY
In 1996, Nomanson started at Central as an apprentice, building cranes with an erector. Always looking to improve himself, he learned on the job and eventually was given the opportunity to act as foreman on a large project. He became a liaison between the union and Central, getting more involved in the business end of the work—experience that is fueling his plans for the Raleigh branch's future development. As GM, he's been focusing on the creation of a service-based attitude. His vision includes positivity and rewarding and empowering employees to work in unison with others at the branch and with the rest of the company.
Nomanson enjoys a challenge and sticks with it until it's met. In Raleigh, he is staffing high-potential new hires who are themselves getting on-the-job training as he did years ago, while existing employees continue their regularly scheduled training. In daily toolbox meetings, Nomanson encourages best practices and works to share things that may improve current processes. He is building a team that pulls together, accepts responsibility, and owns their individual roles.
"Attitude is a big factor," said Nomanson. "Our whole attitude here has changed drastically and is more positive. We are working harder to reward employees, to give positive reinforcement, and to empower employees to do their jobs better, which translates into better service for our customers. Quality is also important, even in the smallest details. Every piece of equipment goes out to a job buffed, spotless. We want to show our customers that we are professionals and that hiring us was the best decision."
Such attention to detail can be even more important to a branch like Raleigh, which gets some high-profile work. They regularly assist the U.S. military at nearby Army and Marine Corps bases, building barracks and handling any lifting needed. This caliber of work brings an extra measure of pride to the staff at the Raleigh branch and helps drive them to step up their game. "This job involves a lot of math and algebra," said Nomanson. "It has to be right on. It has to be exact. You can make the lift or you can't, and if you can't, you don't do it. It is challenging and rewarding."
ALL THE RIGHT EQUIPMENT IN ALL THE RIGHT PLACES
The three Carolina branches, including two branches in North Carolina (Raleigh and Wilmington) and one in South Carolina (North Charleston), work together to form a regional crane powerhouse. From its central-state positioning, ALL's Raleigh branch can serve both of the Carolinas and Virginia. It acts as a funnel for equipment coming from ALL's Northern yards into the broader Carolina region. All three Carolina branches share logistics systems, and equipment moves freely around the region, including ALL's other Southern branches in Alabama, Florida, Georgia, Louisiana, Tennessee, and West Virginia.

In the Carolinas, the ALL fleet is currently serving several important markets: aerospace and aviation; transportation, including major and mid-size ports (Charleston and Wilmington) and airports (13 major airports in the region); and the nuclear, solar, and wind energy markets. General construction is also making a strong comeback in the area. According to its 2016 Construction Industry Outlook, the Associated General Contractors (AGC) reports that 60 percent of North Carolina contractors expect 2016 revenues to exceed 2015. Similarly, according to a new USC Moore School forecast, South Carolina's general construction industry is expected to play a larger role in the growth of the state's economy in 2016.

As the types of work can be different in the South due to its longer construction calendar, so can the types of equipment in demand. "The big-capacity crawlers and telescopic crawlers are popular right now with the energy companies and for new infrastructure construction. And our all-terrain and truck cranes are the backbone of a very busy taxi fleet," said Nomanson. "Our taxi fleet covers a lot of ground and works some pretty diverse industries."

GOIN' TO CAROLINA
The ALL enterprise is supporting the growth of the Carolina fleet and staff so that Raleigh andthe other Carolina branches can properly respond to the burgeoning workload. With a team approach in place and a positive, service-based attitude, sales and service are working in unison to provide customers a more capable and comprehensive experience.
Teamwork, in sports and in business, is the way to success. For the Raleigh branch, the Tar Heel way is proving to be the way forward.
------------------------------------------------------
FLEET HIGHLIGHT: GROVE GMK 7550
In December the company announced that a new 550-USt Grove GMK7550 was slated to serve its Carolina region (the first 7550 in the Carolinas was delivered to Raleigh in 2009). With the GMK7550, the southern U.S. construction markets gain huge capability and mobility for both on- and off-road construction and industrial applications, including bridges and highways, power and nuclear plants, and refineries. The 7550 is also a workhorse for erecting and disassembling tower cranes.
About the Crane
The GMK7550 is Grove's flagship and largest mobile all-terrain hydraulic crane, offering a 550-ton rated lifting capacity on a seven-axle carrier. Its 5-section, full-power 197-ft boom offers a maximum tip height of 207 ft. its 240-ft lattice luffing jib converts to a fixed offset lattice jib with lengths up to 230 ft. Offsettable at 3 degrees and 25 degrees; allows up to 430-ft overall tip height. The crane also comes with a "boom launcher" that speeds assembly for better cost- and time-effectiveness.

The Raleigh branch has access to the entire ALL Family fleet, including crawler cranes up to 1,000 tons, hydraulic truck cranes up to 650 tons, rough terrain cranes up to 130 tons, and industrial cranes up to 22 tons.
# # #
This article was originally published in ALL's Lift Line magazine, Spring/Summer 2016 issue.