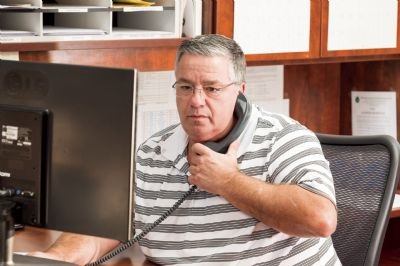 Jimmy Hill was a long distance truck driver, but his talent and experience on the road made him the perfect candidate for ALL's logistics team. Keep reading to find out why.
(This article is the second in a series of profiles showcasing life in the lift industry as an employee of ALL. It was published in ALL's Winter 15-16 issue of Lift Line.)
ALL dispatcher Jimmy Hill started repairing trucks in the late 1970s when he was just a teenager. By 17, he had learned how to drive the big rigs, and he became officially licensed at 18. He knew his way around these machines. He could fix just about anything on them. He understood tractor-trailers intimately: the maximum weights, the dimensions, and the ins and outs of loading and unloading, which is its own science.
After driving for a couple of different companies after high school, he invested in his own rig and drove as an independent operator for many years. But the road is hard, especially as an independent. It's all of the work but none of the benefits you enjoy by being employed by a larger company.
Some friends who worked at ALL Erection & Crane Rental Corp. in Cleveland suggested he apply for a job; his skills were in demand there. And so, in 2004, he began working for ALL — in fact, he was hired the day after he was interviewed. Working for a company like ALL, he felt, would offer advantages he couldn't get working on his own — a benefits package and a chance to save for retirement.
With his background and experience, Hill was immediately put to work, and he was happy to have the opportunity. He learned the ropes at ALL from a driver getting ready to retire [Eugene (Gene) Swartz], and then he was off. He drove trucks and cranes. He repaired trailers on job sites. He was gone for weeks, sometimes months at a time, away from his family, but the road was hard to resist. "I've been everywhere with ALL," said Hill with pride. "From Texas to Arizona to Kansas. I've been to every single Canadian province!" He loved the work, and he excelled at it.
THE FIRST STEP HOME: TO THE CITY
But it takes a toll on you, the years on the road. Though ALL had been good to him, he came to them relatively late in his career as a driver, nearly middle-aged. He had already been driving and working on trucks for a long time. He longed to be home more, to spend more time with his family. The initial years of excitement about the travel and sights on the road began to fade. He thought there must be another way to serve the company — this time, closer to home.
In 2012, Hill transitioned into being a "city driver" working from the Cleveland office. While the workdays could still be long, he would be on jobs in the Northeast Ohio area. He could go home every night and sleep in his own bed. The arrangement was more manageable. With a 75-minute commute each way to his home, Hill was definitely interested in an opportunity that would get him home sooner and for longer periods of time.
But he was still restless. The days were long, and he had other skills to offer the company. His years on the road could benefit ALL in ways that would suit them both better.
John Bacci, logistics manager for ALL, began to call upon Hill for assistance in his department when he was going to be out of the office. A job in logistics at the headquarters for the largest privately held crane rental and sales company in North America would require detailed knowledge of the trucking industry and the trucks themselves; how they worked, their capacities, proactive maintenance to ensure uptime. Hill had that in spades. And the fact that his experience was multi-dimensional — local, regional, and throughout the U.S. and Canada — was an added benefit. He'd traversed those roads and knew the varying regulations, permit requirements, costs involved, etc.
"Jimmy is a huge asset to us and always has been," said Bacci. "Since he was a driver for a long time, his mechanical skills are outstanding. He's repaired trucks for us that were broken down in zero-degree weather, saving us a service call and saving the customer money and time."
Bacci began working with Hill to introduce him more fully to the logistics side of the business. Hill learned how to read and respond to the load boards. Handling this is a complex skill requiring deep knowledge of the fleet and its capabilities and the ever-changing schedule of what trucks are where and when. After a while, Hill was filling in whenever Bacci was out of the office.
HOME TO STAY
Bacci was mentoring Hill, and they both knew it. Hill saw a future that might enable him to get off the road permanently. After only two years as a city driver who stepped in to assist in the logistics office when needed, Hill was approached by ALL President Michael L. Liptak, offering him a position as assistant logistics manager, assisting Bacci full-time. The company's growth was enormous, and the logistics department, which performs as the neural control center of the expanding crane operation, was booming.
"Jimmy and I think very much alike," said Bacci. "I can leave knowing that he understands my system. He creates orders, he handles expenses; he's really helped me immensely. With two people in these roles, we can double check processes, help better manage the workflow, and create some redundancy so that work is never interrupted if one or the other of us is not available."
Hill has been in the position for about a year and loves it. "I'm glad I was recognized and given a chance to step up," said Hill. "The office has really grown, and there's a lot to do here — more than most of our customers might realize — to ensure everything runs smoothly for them."
He arrives very early, at 6:00 a.m., because that's when the work must begin. Although much of his work gets done in the office, he goes out into the field to visit with customers when the occasion warrants. He understands that a lot of this business is about relationships, and decisions are often based on customers' experiences in dealing with any given employee.
Hill's attention to detail and experience under his own truck helps the company in other ways. He's now involved with specs for any new truck purchases. He ensures that bids are fair but competitive and helps provide quality control for the sales process. In his time in logistics, he's helped increase the backhaul rate to upwards of 98 percent, minimizing the number of times the company's trucks are returning empty. And he's no stranger to the yard, either. He visits the truck shop and trailer shop regularly now that he's involved with their purchases of new equipment.
"It's different every time I come through the door," said Hill. "This job challenges me every day, from handling dispatching to payroll to driver expenses to new equipment orders and generating load-outs for our cranes. I'm treated well by the people I work with, from top management to the drivers and everyone in between." Dedication to the company has rewarded him, and Hill is deservedly proud of his accomplishments — as is his supervisor.
As Bacci puts it, "Jimmy has been so valuable in every role he's had here. He likes being around the cranes and equipment and likes to see ALL's success. He always has the company's best interests at heart." And it's a mutual interest that works for both the company and Hill. "As long as ALL lets me, I'll be in this position," said Hill, "and appreciative to be home."
# # #