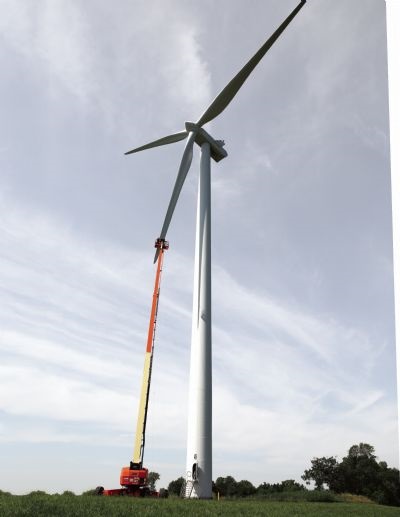 "Short of turning off gravity and letting men float to the job, there hasn't been an ideal or easy way to get guys up over 180 feet in the air to do work — until now," said Scott Jerome, senior branch manager at Dawes, a member of the ALL Family in Kaukauna, WI. Jerome is talking about the new JLG 1850SJ telescopic boom lift that boasts an industry-topping platform height of 185 feet 7 inches — that's more than 18 stories high.
The JLG 1850SJ telescopic boom lift is a revolutionary piece of aerial access equipment. It has already proven itself in the short time since it was introduced to the market at CONEXPO in 2014, where ALL purchased two of these units to better serve their customers' high-reach requirements, said Kris Kasparek, general manager at ALL Aerials, LLC.
Aerials are now working on jobs where they previously wouldn't have been considered, offering customers game-changing access and substantial time and money savings.
"This unit is the tallest in the industry. The second-tallest has a platform height of 180 feet," Kasparek said. "For about 20 years, the JLG 150HAX was the highest, at 150 feet. Then a few years ago, JLG introduced the JLG 1500SJ with a 150-foot telescopic boom (versus articulating). And last year, JLG introduced the 1850SJ 'monster lift' with a 185-foot-plus telescopic boom and an 80-foot horizontal outreach." Horizontal outreach refers to the boom's straight reach parallel to the ground, Kasparek explained, and it's one of the biggest advantages a telescopic boom has over an articulating unit.
"Telescopic booms extend straight like a pencil. The articulating boom has a third knuckle so that you can go 'up and over' something, but it may not be practical for some applications," said Kasparek. "Boom reach refers to the entire working envelope of a unit, which means the total area in which the machine's boom can operate — in this case from 10 feet to over 185 feet high." That's 82,118 cubic meters, and, according to Jerome, "an enormous working envelope."
Other advantages of the 1850SJ include excellent mobility on job sites and on the road, plus a lower rental cost compared to that of a large mobile crane or truck-mounted high lift that would otherwise be required to do the same work. The unit can also be easily transported as one load, versus two or more for a crane. And all of the industry's 150-foot to 185-foot boom lifts can be transported at 8 feet 2 inches, a legal load width, so it costs less for permits.
18 Stories Up on a Wind Farm
On July 14, a JLG 1850SJ from Dawes was delivered to Glacier Hills Wind Park in Cambria, WI, for its first job. "Our customer, a leader in sales and service of high-tech wind power systems, heard we had this new manlift, and they asked for it specifically," said Scott Jerome. "They needed to get their men's hands at a working height of 180 feet. They used the big lift to do repairs on five turbines at two of WE Energies' wind facilities in Wisconsin: repairing lightning-damaged blades on two turbines at Glacier Hills and repairing lightning damage plus cleaning and cosmetic repairs on three turbines at Blue Sky Green Field Wind Energy Center in Calumet and Marshfield, WI. They kept the machine busy for two weeks."
Other ways to get men into the air to work are large truck-mounted units, but they are very expensive both to purchase and rent, said Jerome — much more than the 1850SJ. So, in what was once not an ideal scenario, an aerial lift can now do the job.
Everyone involved was more than enthusiastic about the results. "The job went extremely well," Jerome said. "Both our wind industry customer and WE Energies were tremendously pleased with the quality, safety, and efficiency of the machine." And, compared to the crane-suspended manbasket or large truck-mounted manlift options, "we likely saved them as much as 30% to 40% and possibly even more than that," said Jerome.
Possibilities
"Wind turbine repair at 180 feet turned out to be a perfect application for the new JLG," said Jerome. "We clearly demonstrated the value of this machine. Now, for any application where our customers may need [workers'] hands at heights between 150 feet and 190 feet, this machine is the ticket. Add its enormous work envelope into the usability equation, and you can see why the ALL Family made this important investment for our customers." To ask about renting a JLG 1850SJ telescopic boom lift from ALL Aerials, call 330-659-9600, visit www.allaerials.com, or contact any of the ALL Family of Companies' 37 North American branches.
# # #