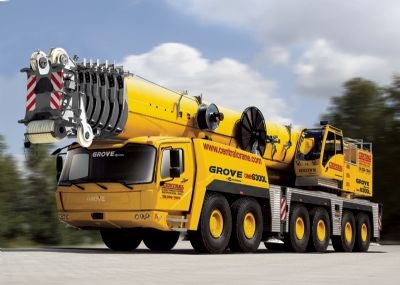 Fort Wayne is Indiana's second-largest city. While the state is a key part of the Grain Belt and Corn Belt, Indiana boasts a wide variety of thriving industries. In 2015,
Chief Executive
magazine ranked Indiana sixth in the country and the only Midwest state in the top 10 in a list of "Best States for Business."
Manufacturing — motor vehicles and related component parts, aerospace, food processing and more — remains a strong component of Fort Wayne's growth and that of surrounding Allen County. There are also plentiful and growing jobs in health care and the defense industry and in a growing leisure and hospitality industry.
THE RIGHT LOCATION
Fort Wayne is home to one of the newest members of the ALL Family of Companies, even though the company put down its first roots long ago. "We're excited to be opening the yard in this official way," said Ed Kocsis, general manager of Central Rent-A-Crane in Indiana (Central). "But we had leased property here for a long time. The value of Fort Wayne to us has a long, proud story."
For the better part of a generation, Central had yards in Hammond and Elkhart, IN. The branches acted as a corridor between the company's operations in Western Ohio (Jeffers) and beyond Central's Indiana locations, into Illinois (Central Contractors) and Wisconsin (Dawes).
"But Fort Wayne always made sense," said Kocsis. "It gave us greater access to the middle of Indiana, including Indianapolis, and it was also just an hour or so west of our Jeffers yard in Lima, OH."
ALL's branches work as a supply chain, and having sister yards connecting in multiple ways becomes very attractive when quoting projects. "When moving one crane can mean almost 40 truckloads, being closer matters, and sharing resources matters even more," he added.
The Fort Wayne location opened in 1999 with about 10 employees and half a dozen cranes, on leased land.
The branch grew with the city. The yard weathered the recession, and not long after the general economic upturn, ALL's corporate office saw that Central was in a good position to expand.
The company purchased a new 7-acre facility in 2015, with 6,000 square feet of office and shop space. Almost as soon as the new building was done, they decided to expand the new location by adding two crane bays, giving them an additional 3,800 square feet. Once complete, the crane bays will allow for machines to be serviced and repaired on-site in the Fort Wayne location instead of having to be sent elsewhere for repair. This will minimize downtime for the equipment and for Central's customers — so everyone benefits.
Today, the Fort Wayne yard boasts more than 25 employees and approximately 30 cranes and other machines, enabling them to provide the right equipment and operators for any job. They maintain a close equipment-sharing relationship not only with the other Central locations, but also with nearby Jeffers .
Kocsis has been the general manager of Central for the entirety of this journey, having held that position for 14 years. He believes in the company, the work they do, and the people at Central and the ALL Family as a whole.
"When I've been promised something, the promises have been kept," said Kocsis. "The structure of our organization is sound. There is integrity at the owner level. Really, the only limits you have at this company are ones you put on yourself. You can go as far as your willpower will take you. If you're willing to step up and take responsibility, they'll give you the opportunity to match. That's increasingly rare. I feel fortunate to work for this company; it is the best."
THE RIGHT EQUIPMENT FOR EVERY INDUSTRY
Fort Wayne serves many types of clients in Indiana's diverse economy. They provide equipment for companies that work on upgrading and expanding the power grid. For the energy industry, they support all lifting needs comprehensively, whether in plant maintenance, expansion or conversion projects, and from power plants to wind farms to ethanol plants. Road and bridge construction are a constant, and Central's equipment and experience make them the ideal lifting partner. New building construction is a natural fit for Central's mix of crawler cranes, all-terrain cranes, rough-terrain cranes, industrial cranes, tower cranes, and aerials.
One standout in Fort Wayne's fleet is the Grove GMK6300L, a 350-USt, telescopic all-terrain crane that excels at heavy lifting with a long reach. A highly maneuverable, strong, and compact machine, the GMK6300L is one of the most advanced ATs in the field, with the longest boom in its class (262 feet). The GMK6300L has two distinct benefits: the long boom and maneuverability. It works well in tight quarters in urban environments, which is ideal because this particular unit calls Fort Wayne home, but serves the entire region from Hammond to Chicago. This 6-axle machine is packed with a lot of punch and power in a compact package — and then you have that great long boom at your disposal. In the city, real estate comes at a premium, and the GMK6300L is a powerful, easy-to-move machine. It's also proven ideal for building tower cranes.
"Our cell tower clients like it because of the long-reach boom and swingaway jib combination," said Kocsis. "They can now do antenna work on a 300-foot cell tower without the need for an assist crane for jib inserts. Also, our bridge contractors enjoy this machine for setting steel bridge beams. It's got a great long-reach chart that allows them to set more beams before they have to relocate." Relocating takes time on a job, and everyone knows that time equals money. "When it's time to move, this AT offers quick and easy mobilization on site," he added.
Kocsis reports that HVAC customers in the area also like this AT because it's ideal for reaching air-handling units. Again, operators can reach more units before work has to stop for the machine to be relocated, managing job uptime with increased efficiency. And water-tower erection crews like the long boom on the GMK6300L as well. "In the past, they'd have to order a crane with a luffing jib to complete some of the same projects. But this AT has a strong and long main boom, which also saves time on a project as there is less to assemble and disassemble," said Kocsis. Its compact footprint enables it to fit into very tight working spaces, another advantage over bigger machines. And it's great both on and off the road, well suited for rugged terrain at a job site or traversing city streets.
Central has two of these unique ATs in their fleet: the one in Fort Wayne and another in Hammond. There are three others in the ALL fleet: one each in Pittsburgh and Mobile, and a third traveling among the Canadian locations.
# # #