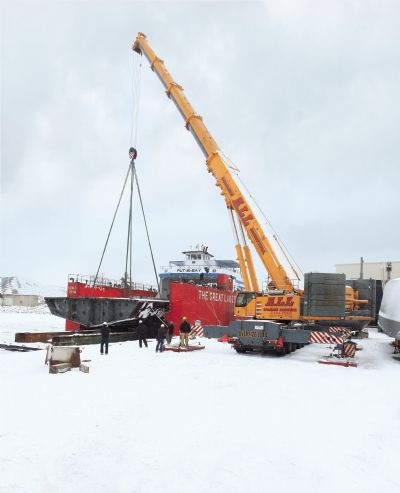 Fall is beautiful. Leaves change colors, and summer heat changes to crisp, cool air. Nobody wants to think about the coming snow, ice and freezing winds that can come on fast. But denial and avoidance leave you unprepared for what's sure to come. At the ALL Family of Companies, they know that preparation is the key to extending the life of their investment in the most modern fleet in the industry. While the company performs scheduled maintenance all year, proper planning ahead for winter, like a squirrel gathering nuts, can be the difference between feast and famine.
ALL's fleet is utilized year-round in all kinds of weather. Construction and repair work are planned regardless of wind, rain or snow. Emergencies can't wait, and shutdowns must be minimized. At 37 branches across North America, ALL's entire fleet must stand ready to assist customers. But winter brings its own special set of challenges.
Slow and Steady: Preparation and Operation
"You've got to work around Mother Nature," said Jason Hanna, general manager of ALL's Canadian branches. "We know it's coming, we know what happens. Being prepared cuts down on the amount of breakdowns and delays."
The key to working in wintertime is to slow down to enable additional attention to detail and to exercise more care. Precautions must be taken with people, equipment and loads to ensure safe operations in wind, rain, snow and ice. "You have to know the limits of your machines," said Hanna. "We address weather challenges as they come up, but also let customers know before we come onto the site of potential issues that could cause delays."
ALL's equipment is made ready to serve in any environment or weather. Lubricants and greases are selected that work in every climate. However, in fall, extra steps are taken across the entire fleet to prepare it for winter, such as topping off coolant and inspecting and replacing batteries as needed. Fuel can be a challenge for cold-weather work. When temperatures drop below 30 degrees Fahrenheit, diesel fuel can gel or wax, affecting fuel lines and filters. If there is moisture in the lines, water particles can freeze. Crawler Crane Manager Rick Mikut explained ALL's proactive approach to fuel problem prevention. "We start a winter fuel treatment program for the entire fleet beginning in September," he said. "You need time to get the fuel into the equipment before winter actually starts, since machines can be sent from any location."
Proactively protecting the engines this way is of premium importance, given their cost. "We use big-dollar engines in these machines — Mercedes, Cummins — so we hold ourselves to a very high standard," said Procurement Director Larry Jeppe. "We hold our fuel suppliers to that same high standard."
One of the key factors to success on any job, but particularly in the winter, is knowing the limitations of the equipment and following each manufacturer's operating instructions. Manufacturers may recommend de-rating cranes by certain percentages or weights according to outside temperature. For example, a 100-ton capacity crane may become a 75-ton crane in extreme cold. There might be pre-operating instructions to follow as well, such as running the engine for a set time before engaging the pumps and then letting the pumps run a while before beginning to operate the crane. This extra time helps ensure the machine is prepped, warmed up, has fluids flowing easily, and is as ready to operate in extreme temperatures as it can be.
"One of the things we do in the winter," said Hanna, "is when dispatch gives us a list of equipment that's leaving, we bring people in early to start the machines and let them run and warm up prior to the operator's arrival, just like warming up a car."
The combined years of knowledge and experience that ALL brings to every job means they know to implement winter weather operating suggestions when the temperature plummets. That's experience and knowledge you can't put a price on.
Optimizing Your Investment
Purchasing new equipment with more creature comforts for wintertime operations is definitely appreciated by those out working in the elements. In the old days, a crane cab might have had a tiny heater or a small fan, but not much else. Now, new equipment can include such features as heated seats or advanced heating and defrosting systems for the cab. No matter where in the country a new machine may be slated to go, ALL will add winter weather options to a purchase. Some manufacturers' cold weather packages offer heaters for hydraulic tanks and batteries. Two hundred gallons of oil can take a long time to get warm enough for safe operations, so options like tank heaters and fuel line heaters can be a real boon to winter work. Because ALL's cranes may be sent to any geographic location, they must be prepared to work everywhere.
Jeppe emphasized that winter can be a potentially dangerous time, so proper procedures remain critical. Cranes can now be plugged into an electrical outlet to help keep components warm while they sit overnight. Even the company's trailers receive special treatment in the winter, as they're equipped with green-compliant pony motor engines to run all night long via an auxiliary power unit (APU).
"We also go through a lot of ice melter for our trailers," said Jeppe. "Anything that's flat with ice on it could cause sliding, so we have to de-ice the trailers, just like you would de-ice a plane in the winter before it can take off. We undergo considerable training about proper loading, tying off and other procedures to follow in bad weather."
The cost of an APU can be prohibitive for some small companies, but the value of an APU cannot be understated. Last year, ALL invested in the purchase of 10 new Manitowoc MLC300 crawler cranes, each with an optional APU. Running the APU means burning approximately one gallon of fuel an hour instead of eight, and it helps prevent the oil from thinning out. Not only do you burn less fuel, the crane is not kept running for as many hours. The APU also acts as a tank heater, ideal for colder-climate work. "If you look at the cost savings of fuel along with wear and tear on your machine, in the long run, an APU is a home run," said Mikut.
Experience Matters
Of course, equipment isn't the only thing on a job site that needs to undergo additional preparation for winter work.
"It might seem obvious, but you need an experienced team on a winter job to do something as basic, but as essential, as always ensuring that the load you're going to lift isn't frozen to the ground," said Jeppe. "It's up to the riggers and other team members to communicate about the conditions. You have to be careful. A frozen load could flip a crane over." Or, as Hanna pointed out, crane mats could be frozen to the ground if the mud was moist when they were set the day before. An experienced team working together to battle the special challenges of winter is a valuable resource that can positively affect uptime and profitability. "Every year I learn new things about how to be even better prepared," said Hanna.
Worker hazards are also considered, with additional fall protection equipment and cold weather personal protective equipment (PPE). From shoe spikes to railing packages, ALL takes extra precautions when it comes to the safety of its workers in the cold. In Canada, where winters are colder than almost anywhere else ALL operates, there is always special cold-weather gear on hand, including boots, jackets, pants and coveralls rated to withstand minus-40-degree temperatures.
Lost production time due to weather is almost unavoidable in this business. But downtime due to a machine that wasn't prepared for changing seasons is costly — and because it could have been prevented, unacceptable. By taking steps to ensure your team and your equipment are prepared for even the roughest weather, your investment in that equipment continues to pay off, season after season.
----------------------------------------------------------------------------------------------------------------------------
WINTER CRANE PREPARATION
Top coolant and inspect and replace battery
Start winter fuel treatment program
De-rate cranes by certain percentages or weights according to outside temperature
Start the machines and let them run and warm up
Opt for the winterization package when purchasing new equipment
Refresh your team on winter protocol and make sure they are outfitted with the appropriate winter gear
# # #
Published in Lift Line Fall 2015