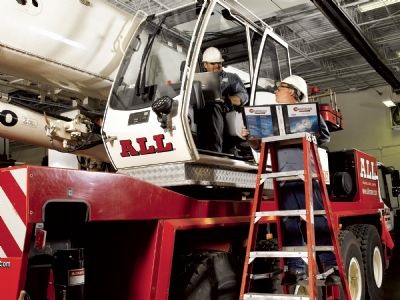 I live 65 miles away. I've been driving 130 miles a day for 15 years now. It's worth it for me. ALL has done right by me." — Larry Jeppe, procurement director
For more than 50 years, the ALL Family of Companies has worked to distinguish itself in its field, and that hard work has paid off. From humble beginnings as one family with a single crane, the organization now boasts a 37-branch presence in North America. The company is proud of the business and the employees who have helped support every goal along the way.
In many industries, employee job satisfaction has been on shaky ground for many years. Due in part to "the Great Recession" of 2007–2012, from which the country is just beginning to rebound, employee dissatisfaction has been notable. The Conference Board, a global, independent business research association, has been reporting on employee satisfaction since 1987. Their 2014 report showed that less than half of U.S. employees are satisfied with their jobs. Reasons can vary, and include stagnant wages, rising health care costs, lack of teamwork and dislike of their supervisor or boss. One of the most noted reasons for job dissatisfaction has been having uninteresting work; that is, work that is not challenging or personally engaging.
But ALL is different.
ALL has always taken care of its employees, both professionally and personally. Efforts to promote employee satisfaction are important to the culture of the company, which is that of a large family. In addition to a stable work environment and an interconnected, inclusive culture, there are regular workshops for managers and supervisors to hone their management skills and to develop, maintain, and improve their working relationships with employees. ALL offers choices in benefits packages to satisfy the needs of different employees, and there is an employee assistance program and a wellness program to provide the necessary tools in matters of health, finances and work-life balance. And finally, the company provides a program of continual skills and safety training to help employees become better at their jobs, thus increasing their pride and competence.
ALL knows it is people who make the difference, and the employees reflect that attitude. Many long-term ALL employees see the company as a family — one that takes care of its own — and one to which they can devote years and years of dedicated service.
Developing and sustaining a brand reputation like ALL's takes commitment. ALL continually works to stay at the top of the game. ALL's reputation in the industry is well recognized: Its ability to provide exactly the right equipment for every job and maintain it in like-new condition is a boon for the contractors and subcontractors who have come to depend on ALL as a reliable, trusted partner for their work. But perhaps the true measure of a company — the strength of its continued brand integrity — is the people it employs.
"ALL's reputation is built on integrity, trust, safety, and excellent customer service," said Katie Spahnie, corporate human resources manager. "Our employees are a valuable and vital part of the company. They help build and support our reputation. This is why we continually invest in them, whether it's through benefits packages, competitive salaries with regular increases, or through our training programs. We work hard to take care of our employees."
The relationship between older, more seasoned employees and newer or younger employees is a unique hallmark of internal quality that further distinguishes ALL from other companies. "Most often, we have someone shadow an experienced employee who already knows the ropes," said Clay Thoreson, tower crane division manager.
"Personal mentoring from those who are experienced for the younger, up-and-coming stars is an important practice here." Thoreson, familiar with ALL from a previous job where he was a competitor and supplier for 25 years, finally joined the fold five years ago. "What attracted me to ALL is what I hope attracts others. ALL has a tremendous amount of resources to offer someone who wants to build a career here. Many different departments with different skill sets create an abundant amount of diversity in the work. Driven people who have the desire to succeed will find ALL a great place to do just that. I wish I [was young enough to] do 25 more years here at ALL."
"One day you are paired with a seasoned employee who is making a good living — a mature worker who knows his craft," said Greg "Biff" Kossman, service department manager. "The next day, you may follow a different person and benefit from his perspective."
At ALL, cross-training and nurturing the development of new employees starts immediately. "You get a feel for what the new employee's talents are and where they would best fit," continued Kossman. "We promote from within."
Larry Jeppe, procurement director, has perhaps the most interesting of supervisory duties, since many of his new employees end up elsewhere within the company. "I train them so well the other departments want them," he joked. "My people are not just parts people. They get ground-zero training on everything in this company. They do things like escort cranes around the U.S. and Canada … everything from running towmotors to training to organizing parts. I send them to get a TWIC card (Transportation Worker Identification Credential; issued by the TSA) so they can access government agencies and ports. They drive right in to go fill up a crane with fuel. You come here not even knowing what a crane is, and then realize everything needs a crane to move it. Here, you get a behind-the-scenes view of the construction industry."
The ALL Family of Companies is in the business of teaming with others who are literally changing the landscape of the country, one project at a time. Every person's contribution counts. Of course, out of ALL's approximately 1,500 employees, not every one is out on a job site operating a crane [Read "Beyond the Hard Hat," ] But the company makes sure that every employee understands that the job they do every day matters.
"I offer the option of office work," said Jeppe. "You match people to their comfort level. Some guys don't want to travel. Some folks want to do inventory and answer phones, and we need that, too." The management team at ALL works to cultivate a sense of caring and family that makes for a more pleasant workplace and fosters hard work while promoting on-the-job safety. Managers see the people in their department as an extension of themselves; there's no hierarchy or classism.
"I will never send someone to do something I have not or would not do myself," continued Jeppe. "I will hang a picture on the wall, mow the lawn, pressure wash a building. Whatever needs to be done, we do it."
Simply put, the organization stands out in the passion and dedication the employees have for their work. If a worker shows initiative and enthusiasm, he or she will be recognized, nurtured, supported, trained and advanced. Even in the 21st century, ALL is the type of company where someone can get a job and keep it until they retire. No matter how a new employee comes to ALL — fresh out of high school or mid-career from another company — if they have the desire to learn and succeed and a passion for excellence, they can become a valued employee.
Attracting future talent is vital to succession planning for any business. ALL has had a great track record for decades, but how are they looking ahead and planning for the next 50? As longtime employees retire, the company has to keep their eye on the ball, so they seek out and welcome the next generation of dedicated workers.
Jobs exist in sectors like this because business continues to be stable and growing. The need is increasing for dependable, intelligent workers as the baby boom generation retires. Construction, energy and other industries that rely on cranes are not going away in the age of the Internet; in fact, they're growing. Not everyone wants to sit all day in a cubicle or dress up for work. ALL has a place for those people if they have the ambition to succeed. And they're looking for more of the right people all the time.
"I think younger folks don't realize that you can make a very good living and be needed, wanted, and in high demand in a reliable job with benefits," said Kossman. "We send [employees] to school once they show promise. We pay for their training. But you don't learn jobs like this overnight. It can take years, and the person has to have a knack, a talent, and the right amount of patience, interest and attitude."
Integrity. Dedication to the job. A commitment to safety. Customer service excellence. These are the hallmarks of an ALL employee, reflected in the quality work they bring to every job, every day. As the company continues to build on their reputation for excellence, they're looking toward the future.
Where do YOU fit in?
###
Published in Lift Line Summer 2015