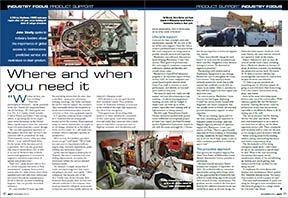 "Without service, you have nothing." That's the philosophy of Michael L. Liptak, president of the ALL Family of Companies based out of Cleveland, OH. And a good one it is. The ALL Family, which includes Central, Dawes and Jeffers Crane among others, is operating one of the largest crane rental businesses in the United States. Liptak made it clear that customers want a lot more than just a rental, though. "We can rent equipment anywhere in the country, but if we can't service it, the customer will be unsatisfied," he said. "Unfortunately, a crane is like any other vehicle – it can and will break down. It's the nature of the business and it's a guarantee. But I can also guarantee that when it breaks down, ALL is able to service it. We know that perfectly maintained equipment is necessary to support a customer's expectation of uptime and productivity."
That's why Liptak doesn't refer to ALL as a rental company but rather a "fleet maintenance" company. Service is the reason why ALL buys factory direct from manufacturers and why their technicians are trained directly by manufacturers.It's all so that the moment something happens, they can provide immediate assistance.
ALL was founded 50 years ago with the prevailing notion that the more they controlled – spare parts, technician training, trucking – the better and faster the service and the happier the customer. They essentially shifted the headache of repairs and maintenance away from the customer to their own equipment experts.
ALL provides solutions from a network of 37 branches that are strategically located across the country. From logistical issues to routine maintenance as simple as an oil change, whether it's in the field or in the service center, ALL will make sure it doesn't affect a customer's up time or productivity.
"All is as close to a turnkey operation as you can get," said Liptak. "We've built our own service departments with an engine shop, hydraulic department, paint, welding and fabrication shops." Liptak cites the Japanese philosophy of "Kaizen," the idea of constant and never ending improvement, to explain the motivation behind his service-minded business model.
"In business, it simply means that if you're not improving every day, you're not going to succeed," said Liptak. "Other companies that became part of the ALL Family were chosen because their locations, their people, their service were valuable additions to the company. And all of our branches will grow as necessary to improve and to successfully address the industry's changing needs."
ALL's devotion to service goes beyond their customer's needs. They mobilize cranes on weekends, holidays, or even just in the middle of the night that respond in the event of an emergency.
"Emergencies are about doing what needs to be done, whether it's convenient or not," said Liptak. "And unfortunately, it's a sad reality that cranes are often called upon to respond to emergencies such as highway accidents, trail derailments and storm catastrophes. And in those cases, we do what needs to be done."
Life-cycle support
Gone are the days of simple parts and maintenance support. We are now in the era of life-cycle support. From the time a crane is purchased until it has seen its last lift, crane companies are being asked to provide valuable services and expertise.
Manitowoc has embraced this new era by developing Manitowoc Crane Care service. Their goal is to provide total life-cycle support, maximum equipment utilization, optimal profitability and overall owner value.
To continue reading, view the link below.
Originally published: November 2014 American Cranes & Transport