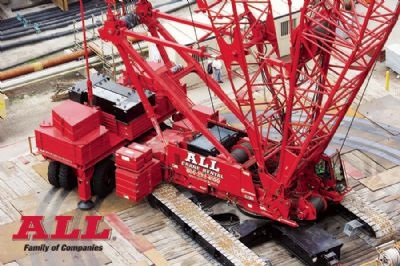 In April 2014, TECO (Tampa Electric) Energy, Inc. undertook a complicated construction project at their Big Bend coal-fired power station in Tampa Bay. Routine inspection had uncovered deterioration in one of the plant's 300-foot-long steel ducts that was inside a 500-foot-high smokestack. The aging ductwork had to be replaced with fiberglass, necessitating a scheduled 45-day shutdown.
ALL Crane Rental of Florida was called to provide lifting services for the project, ultimately providing seven cranes.
Jobs and cranes are often paired up months in advance, and every contingency and lift is planned for carefully. For the heaviest lifts that would take place at Big Bend, two 300-USt crawler cranes were selected: a brand new Manitowoc 2250 and another 2250 that was a 2007 model.
"Model year doesn't matter for a crane that has been maintained and serviced regularly the way we do at ALL," said Mitch McDonald, general manager of ALL Crane Rental of Florida. He explained that crane selection is "based on capacity, site limitations, fleet availability, and location of the job site, not to mention the project schedule and budget requirements. We wouldn't have it in the fleet if it couldn't answer the call based on all those criteria."
In the end, the ALL Family of Companies' top-ranked crawler fleet is an incredible mix. "We invest constantly in the latest and greatest available equipment. So our success really stems from how well we take care of the best equipment," McDonald continued. "ALL's reputation for service is what makes our vast inventory trusted on critical job sites across North America."
MANAGING THE FLEET
ALL doesn't just rent cranes; it is, in essence, a fleet management and maintenance company.
ALL's close relationships with manufacturers allow it to buy directly from the source, whether it's new cranes or replacement parts. ALL's service capabilities and continual investment in training maintain the value of those assets over the long haul.
The Company's 37 full-service branches act as a supply chain with equipment migrating along a carefully planned corridor. Fleet management involves scheduling moves of cranes and other lift equipment from job to job, between different locations, and bringing them in for service and maintenance. Routine maintenance is conducted after every job and also at specifically scheduled times when overhauls are due. It's a complex balancing act. The fleet is 3,500 machines deep, and the differences between machines can be significant. "Consider the differences between an 8-ton industrial crane and a 1,000-ton crawler," offered McDonald. "That's a lot of different parts. And it requires a ton of varied know-how and service training for our shop guys. But we're always ready; they're the best of the best."
Streamlining service, efficiently managing the fleet, and maximizing equipment availability helps increase overall efficiency, which translates into profitability for ALL's customers.
For the Big Bend job, ALL knew that the 2007 model had been regularly maintained. They also knew it would be compared — not only operationally, but also in appearance — to the new machine, since they would run alongside one another. It was decided that the earlier-model Manitowoc would get some shop work.
"Prep work for this project started six months before the first piece was even placed on a truck," said Mike Weaver, special projects, ALL Crane Rental of Florida.
While it didn't go through a ground-up, complete remanufacture, everything that could have been worn over its seven years of life was extensively tested and replaced if needed, including belts, hoses, pumps, and motors. And finally, the machine got a fresh coat of paint so it would gleam just as brightly as the new crane. ALL goes the extra mile in making sure the equipment is top-of-the-line and that the fleet is second to none.
"ALL was easily able to bring this machine along so it was a great match for the new one — with our massive inventory and the right personnel in place for the tasks at our state-of-the-art facility in Tampa. Both cranes finished the 45-day shutdown on schedule with zero downtime," said Weaver.
THE TOUGHEST JOBS
Once on site, the cranes would be involved in the demolition and removal of the old steel duct,which was worn from years of use. The cranes also handled the installation of the new fiberglass duct. Augusta Fiberglass Coating Inc. manufactured the new duct and acted as the primary contractor. Augusta called on Southeast Construction as the erector subcontractor, who partnered with ALL for the lifts.
The heaviest lifts would involve removing the steel duct: 10 lifts, with each cutaway section weighing around 50,000 pounds. Twice as many lifts would be needed to hoist the new fiberglass pieces, each coming in at 35,000 pounds and 21 feet in diameter.
Matching the right equipment to the job at hand is also critical and requires skilled, experienced decision makers. ALL recommended the two Manitowoc 2250s to work in tandem, each equipped with 140 feet of main boom and 190-foot luffing jibs. Each was also configured with a 30-foot MAX-ER to boost lifting capacities from 300 USt to 500 USt. The MAX-ER, with its 30-foot offset, minimized tail swing — very necessary in this tight working space. The cranes had to be positioned to pick and place at a distance, both operating at a 200-foot radius, thus reducing their maximum capacity to 75,000 pounds.
UNPARALLELED SERVICE AND MAINTENANCE
In addition to the two-month investment to ready the cranes for the job, ALL arranged for maintenance staff to remain on site at Big Bend during the project. "This investment in uptime and customer productivity is how we become a partner, not just a vendor," said Norm Huddy, sales associate at ALL Crane Rental of Florida, about the Big Bend job.
Purchasing new cranes is an enormous investment, and that investment pays off best over time if machines are used continuously — in response to demand and for as long as possible — through the combined efforts of experienced equipment scheduling and dedicated, regular service and maintenance, even on the job site.
"It was gorgeous, those two cranes working side-by-side," said Huddy. "When they were parallel at the site, you couldn't tell them apart. It's a great example of how we maintain equipment once it enters our fleet."
Keeping equipment in like-new condition means the age of the machine does not have to be a factor when scheduling and selecting equipment. The full spectrum of the fleet is available to choose from, based on availability and location.
ALL's dedication to machine excellence directly ties to service. Huddy emphasized that "sales, service, dispatch, logistics — everyone has to work in concert" to meet pretty straightforward equipment expectations. "Basically," concluded Huddy, "the customer expects uptime. We all have to work together to deliver."
ALL Crane Rental of Florida is a full-service yard. They have the experienced staff and tools necessary to offer bumper-to-bumper service on their machines, and they can draw from the entirety of the ALL Family of Companies if additional help or equipment is needed to answer a customer's call. They have work-ready machines available with capacities from 4 tons to 550 tons, and can quickly mobilize additional equipment from sister branches in the south. They also offer forklifts, aerial work platforms, and rigging services.
From changing a tire to replacing an engine to complete rebuilding or remanufacturing, ALL offers the largest selection and the best-maintained equipment on the market.
# # #
Originally published: Fall 2014 Lift Line magazine