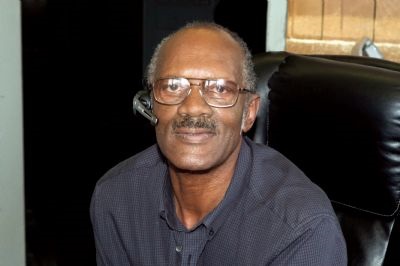 Leonard Kelley has a work ethic that is not like yours. It's not like most people's. It is borne of the old days, when, if you worked hard every day, you could count on a job being there for you, count on the company — and the company knew they could count on you. His work ethic is, to this day, strong, determined and steadfast, and his commitment to his job and the company who has employed him for 40 years is unwavering. It's been that way ever since he started at the All Erection & Crane Rental Corporation back in 1974.

Leonard was working for Firestone when Michael C. Liptak, founder of ALL, recruited him to run the company's new tire shop. He did everything related to tires, "and there was always plenty of work," said Leonard with a smile. Leonard has always shown up to work at 6:00 a.m., even though his scheduled start was 7:30. "It's worked for me," he said, explaining that by being there early, he can get things up and running. "I always felt a start time meant you started working at that time and I wanted to be ready," Leonard said. "I love this job and it keeps me going."

In 1976, after he had spent only a couple of years in tires, Mr. Liptak asked him if he wanted to start driving long-haul trucks for the company. Whatever ALL has needed, Leonard has done it, putting forth his best effort, even if it was something he had never done before — which was the case with trucking. But his determination and strong will served him well, and he learned quickly.

Of his early days in the cab, Leonard shared that he was proud, as a young truck driver, to have made it through the blizzard of 1978. He had been on his way to Salt Lake City, Utah, when the blizzard hit the Midwest, leaving him stuck in his cab for two days and three nights. The young, inexperienced driver took the advice of a stranger and managed to obtain and keep enough straight gasoline in his diesel tanks to keep his fuel from turning to sludge when the temperatures took a 30º dip. Like everything else in Leonard's career, this allowed him to power through when the storm passed.

Leonard drove the truck for around 15 years through the 1990s until he moved into the car and truck parts division, where he stayed for a decade. But Leonard was always ready for change, and ALL Erection & Crane Rental was constantly changing.

"One day, Mr. Liptak came into the parts shop and just told me to pick up all my things and move them to the new truck building and run it. I said, 'Sure, Mr. Liptak,' and I've been running the truck division ever since."

ALL has 450 trucks spread throughout their North American footprint, and that immense fleet has to be maintained as expertly as the company's crane fleet. Inventory has to be strategically and expertly managed to ensure continued availability. It's a lot of responsibility, matched by Leonard's dedication to doing it right. "Our trucks are safe and always ready to go. Routine maintenance, yes, but most important is lubrication. That's the heart and soul of keeping the fleet moving. We stay on it and keep 'em clean. Clean, safe, sound. That's our brand, no ifs, ands, or buts."

Technology has changed things a lot in recent years, both in the state-of-the-art shops and in the office. Leonard now is happy to have some of the younger guys share some of the nuances of these technologies while he trades his years of hands-on experience, creating circuitous learning for everyone. "We embrace every technology here," said Leonard. "I might lean on the young ones now, but they lean on me, too."

The company recently held a well-attended and much-deserved 40th anniversary party for Leonard. Mr. Liptak was in attendance, as was May Kelley, Leonard's wife, and his daughter Stephanie Redmoen. Leonard also has another daughter, Michelle, who lives in North Carolina. All of them are very proud of Leonard, and rightfully so. This is a special achievement and Leonard truly is a special kind of individual who has been a real asset to the company.
Originally published: Fall 2014 Lift Line magazine