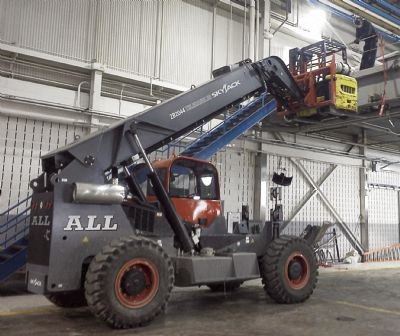 The three-story condominium complex stood in its skeletal state — all structural steel in place. And just in time. All of the subcontractors working on the facility now had to coordinate their efforts and the tools of their various trades. Construction materials had to be delivered precisely where they were needed, safely and efficiently. Whether it was piping and rolled wire for the electrical team on the second floor, or bundles of wallboard flown into position on the third floor, a steady stream of material handling was being managed at ground level while the rest of the building was taking shape. And it could, thanks to the maneuverable and cost-effective telehandler.

Telescopic handlers, commonly referred to as telehandlers, are the perfect blend of forklift and crane. More crane than forklift, telehandlers can be used to lift, move, and place items where a conventional forklift would fall short, whether in reach, radius, or lifting capacity.

ALL Aerials, a division of the ALL Family of Companies, offers a variety of telehandlers for rental and sale, in a variety of sizes and capacities to assist with any job. But the strongest and heaviest in their arsenal is the Skyjack ZB2044, introduced in 2012. ALL Aerials boasts several in their national fleet.

Robust, Rugged, and Reliable: Skyjack ZB2044
The ZB2044 is truly special. It has the greatest lifting capacity of any Skyjack telehandler, and is one of the largest such machines made in North America, with a 20,000-pound (9,072 kg) capacity when its boom is fully retracted, whether outriggers are down or up. With the added support of its outriggers, this strong, flexible telehandler can lift 12,000 pounds (5,443 kg) to its full 44-foot, 10-inch maximum height (13.67 m), and can provide an impressive 7,000-pound (3,175 kg) capacity at a 27-foot, 5-inch (8.36 m) forward reach. On tires alone, it can lift 10,000 pounds (4,356 kg) to a height of 44 feet (13.41 m) or lift 4,000 pounds (1,814 kg) to 27 feet, 5 inches (8.36 m).

"We bought our first two units in 2012 and have invested in two more since," explained Kris Kasparek , general manager of ALL Aerials. "They have never been off rent," he added.

The telescopic boom allows the ZB2044 to handle large loads at wind farms, power plants, mines, and pipeline sites. Kasparek said, "We also use the them in industrial construction and maintenance, shoring, steel erection, and masonry work. Demand and utilization in these industries has been high."

"Being able to pick and carry 20,000 pounds is quite an advantage," said Ron Butts at Skyjack. "Once people start using this machine, they can see increased productivity in being able to pick up more weight at one time, being able to pick an object and extend the boom out," he continued.

"In shale work, for example, working with long, large-diameter, pipes, you can take a 40-foot pipe and extend that out 30 feet and then turn it parallel with the machine. That's a unique advantage of the ZB2044 — that example would require a lot of maneuvering or additional machines if you weren't using this model," concluded Butts.


Moving Materials on Site: Questions and Answers You Need to Know
Richard S. Randall, Operations Manager, ALL Erection & Crane Rental Corp.
How does machinery that moves materials on job sites aid in the staging of job site materials?
When trucks arrive with product to be used on site, we consider things like the radius of particular lifting equipment, lifting capacity, and the direction in which the material will be placed to maximize efficiency of picks and grabs. If you know from experience that for unloading trucks or staging in bulk you can use a crane to take an entire bundle of building material, then that's going to be more efficient. But it's also important to know that a telescopic forklift can handle setting materials the quickest, or that a telescopic crane is the easiest way to move some product once it's on site.

When is it best to plan for moving materials on site?
Having experienced personnel involved with the planned moving and handling of your materials is critical to matching the best equipment to the job. In our planning meetings with the contractor and suppliers, we explain the vast variety of equipment we have available to us, as well as different machines' capabilities, so we can recommend equipment that would be best suited to their particular job. We factor all elements into those decisions, including taking into account the real estate we have to work in and how to be the most efficient once we're on site, so we can set materials once and move them once. That's our goal.
# # #
Originally published: Spring 2015 Lift Line magazine