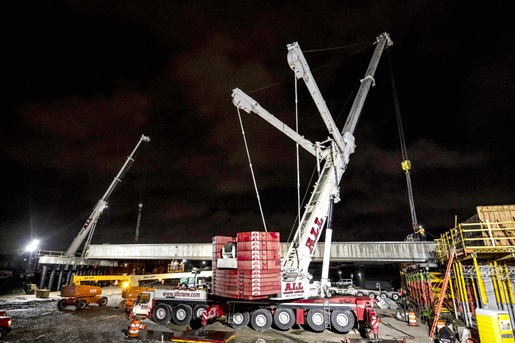 You know your highway interchange has earned the locals' ire when they nickname it the "spaghetti bowl." Such is the pasta-rific fate of the confusing tangle of overlapping freeways, multiple lanes, ghost ramps, and exchanges for I-65/I-70 on Indianapolis' northeast side, more commonly known as the North Split.

"There are portions where it's five, six lanes, and depending on where you join or want to get off, you might have cross all of them to get where you want to go," explains Tim Welty, sales representative for Central Rent-A Crane, a member of the ALL Family of Companies.

Tim's branch has been providing heavy lift equipment for a massive highway project to de-pastafy the highway system, which includes building 50 new bridges in just 18 months. (The timeline is about halfway done and so is the work, so everything is on track.)

The latest work includes setting beams for new bridge spans at Michigan and Pine Streets off I-70. Welty's team supplied two high-capacity all terrain (AT) cranes for a series of dramatic dual night picks.

"We had two Liebherrs, an LTM 1400 and LTM 1500," said Welty. These machines have capacities of 500 tons and 600 tons, respectively, necessary to handle the sheer mass of setting bulb tee beams atop 25-foot tall piers.

Each beam weighs 246,000 pounds and is 179 feet long, longer than the wingspan of a 747. The 500-ton LTM 1400 was configured with 264,000 pounds of counterweights and 130 feet of main boom. The 600-ton LTM 1500 had similar counterweights with 130 feet of main boom and Y-guying attachment. Y-guying adds capacity and boosts lateral stability.

Because the roadway is under construction, there was no choice but to place the cranes below the piers.
One crane set up near the first outside pier, with the other at the middle pier. Both cranes picked the beam off the supplier's custom trailer and lifted it into position. The general contractor's team helped guide it into final position and added diaphragms, the temporary braces that hold the beam in place while it is permanently attached.
"The cranes are booming up then the operators are swinging in opposite directions," said Welty. "It takes skilled operators with the finesse to work in unison. They can't be pulling against each other."

Six beams were set, making a completed span, all in one night. There was a day to tear down and reassemble the cranes at a new position, then the second span of six beams was set, making for two nights of total work.
Central Rent-A-Crane will get a weeklong break before adding another portion of spaghetti to its plate. They're returning to the larger project with a 500-ton crane for some single picks at a different location.