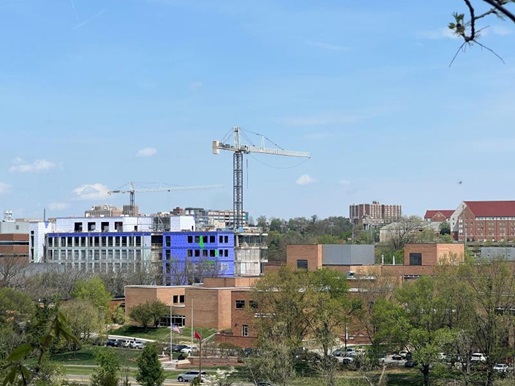 The building boom in the southeastern U.S. continues, and ALL Crane Rental of Tennessee, a member of the ALL Family of Companies, offers a snapshot of the region's robust construction market. The Knoxville-based branch has multiple projects active in four states, with more jobs already under contract for the remainder of the year.

ALL Crane Rental of Tennessee currently has eight towers up at six different projects, extending north to Abingdon, Virginia, south to Huntsville, Alabama, and east to Asheville, North Carolina. Five more towers will be going up in the next four months.

The core of the branch's work, however, remains in Tennessee. "We're seeing growth throughout our state," said Billy Vaughn, general manager of ALL Crane Rental of Tennessee. "We have favorable tax rates and an excellent financial position with the best bond rating in the country and one of the few states with a rainy day fund. Mid-sized cities east of Nashville are exploding and there are housing shortages. The result is an increase in construction across the board, but especially in mid-rise buildings between six and eight stories."

The branch is currently working on two projects at the University of Tennessee. First is a new 700-bed student housing facility from Greystar Development. ALL's customer is Glenn E. Mitchell Concrete. The branch is providing Peiner SK 575 and Potain MDT 219 tower cranes. The second UT project is a new 157,000-square-foot energy and environmental science research building for Christman Company. A Peiner SK 575 is on site.

"Enrollment at the University of Tennessee continues to grow, with a 23% increase in incoming freshman this academic year," said Vaughn.

In Kingsport, Tennessee, a Peiner SK 415 is assisting with a new capital project at a chemical plant.

In Huntsville, Alabama, two ALL tower cranes, Peiner SK 415 and Peiner SK 575, are helping to construct a new mixed-use walkable community with apartments, restaurants, and retail.

In Abingdon, Virginia, a Potain MDT 219 is at work on the Washington County Courthouse project. The historical structure is getting a 28,000-square-foot addition and other upgrades from Burwell Construction to make the Civil War-era building ADA-compliant.

The final active project is a new housing project in Asheville, North Carolina's River Arts District, a six-story structure with 263 housing units and 4,500 square feet of retail and artist studio space. ALL is providing a Potain MD 485 to customer Donley's Concrete Group.

On the horizon, Vaughn is looking forward to more attention-grabbing construction projects. Highlights include a AA baseball stadium with accompanying apartments on the first-base and third-base sides, as well as an as-yet undisclosed project in the heart of downtown Nashville.

"It's an exciting time to be in the crane business in this part of the country," said Vaughn. "As more people make their homes in Tennessee and surrounding states, the demand increases for commercial, residential, medical, and educational construction. The demand for road work and infrastructure related to the boom is keeping us busy, too."