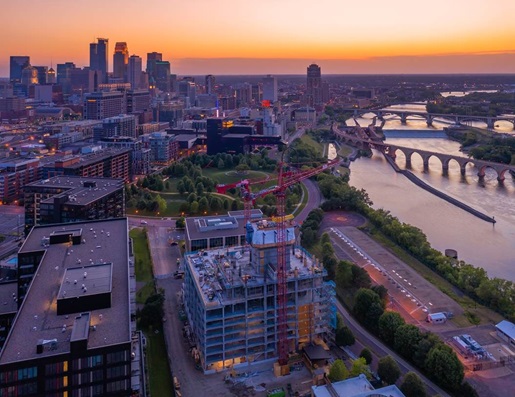 Construction of a plush new precast high-rise condominium building is underway in downtown Minneapolis. When completed, it will be the tallest residential building in the city, standing at 41 stories, or 550 feet. The project is getting a welcome assist from two tower cranes, a Potain MDT 368 and a Potain MDT 485B-GH, from Dawes Rigging and Crane Rental and ALL Tower Crane, both members of the ALL Family of Companies.
The building, known simply as Eleven and located along the Mississippi River in the Minneapolis' tony Mill District, is being constructed using a unique combination of cast-in-place concrete columns, post-tensioned floors, and precast facade panels.
Typically, when high-rise construction employs two tower cranes, each takes a turn being the high crane, leapfrogging to allow for alternating tie-ins. However, with this project, the MD 485B-GH will always have to be the high crane. This is because precast installation can only be performed after stretches of the core have been completed, and also because of some air restrictions with a property line below.
"Think of the high-rise as a pencil," said Ryan Harrison, branch manager of Dawes' Madison location. "The core is the pencil lead and the precast forms the pencil around it. The shorter of the two towers, the MDT 368, is a topless tower crane. This allows it to get closer to the building so there is less hook distance between the cranes, and it's easier to coordinate tie-ins."
The MD 485B-GH went up last November and is expected to be onsite until the fall of 2021. It has 148 feet of jib, began with a 230-foot hook height, and will finish at 624 feet of hook height. The MDT 368 followed in December and will be on the job through next June. It's configured with 131 feet of jib, started with a hook height of 197 feet, and will climb to 590 feet. Each tower will tie in a total of four times so panel installation can be maintained as core work continues. Both towers also allow for fast, in-cab switching between two- and four-fall reeving.
"This capability allows for lifting flexibility across the two work shifts," said Sam Moyer, general manager of ALL Tower Crane. "Depending on what each shift is working on, they may need speed or capacity from the cranes. This switching ability makes it easy to go back and forth as needed. Both cranes were also ordered with the largest available hoist, which serves well on this kind of a project."
In addition to providing the towers for the project, Dawes and ALL Tower Crane also provided engineering support, assistance with climb schedules and foundation reactions, and fabrication of a special bracket used for tie-ins.
"There are several unique facets to this project that required the engineering expertise of ALL Tower Crane," said Harrison. "Our ability to provide these solutions, coupled with our family of companies' nationwide depth of knowledge in tower construction, was critical in our acquiring and successfully performing this work."