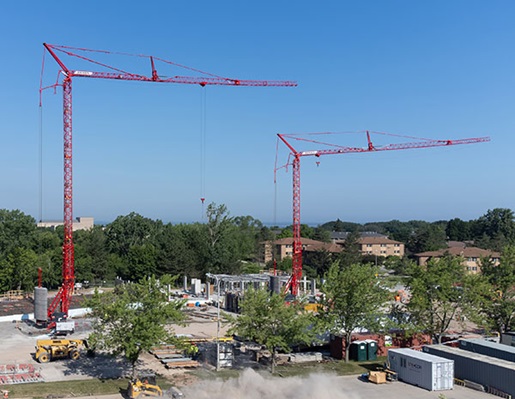 A new kind of tower crane is making its debut for the ALL Family of Companies. The construction site is an unassuming student housing complex on the campus of the University of Wisconsin-Green Bay. The new tower, the Potain IGO T 99 tower crane, isn't about height (the greatest hook height among the two T 99s on campus will be just 119 feet), but it is about reach and transportability.
The Potain IGO T 99 is a recent addition to the crane maker's lineup, unveiled at Bauma 2022. ALL took delivery of its units in March of this year, and the UW project, undertaken by Dawes Rigging & Crane Rental, a member of the ALL Family of Companies, represents their maiden voyage.
"These cranes are well-suited for medium-sized commercial projects where space is a factor," said Leroy Kane, sales representative with Dawes. "They are virtually a necessity for working on today's wide-ranging multi-family and mixed-use projects."
The Potain IGO T 99 tower crane is a versatile telescopic self-erecting tower crane with a 6.6 USt capacity, 157-foot reach, and 126-foot height under hook. Its compact transport dimensions, small footprint, and innovative unfolding procedure make it easy to deliver to jobsites and erect in tight quarters.
The residence hall site fits the bill. The entire west side of the building's footprint is only feet from the property line, as well as a swamp. This limits crane placement to the east side of the expansive site.
Construction is helmed by Immel Construction, Dawes' customer on the project. When finished, the residence hall will be four-stories and 100,000 square feet.
"The overall length of the building requires both the north and south portions to be worked on at the same time," said Kane. "Having both T 99 towers on site allows for the necessary swing radii and schedule requirements."
The towers come with Potain's Smart Set-Up software, enabling operators to fully erect the crane using only its remote control. A large, color telescreen displays step-by-step progress. Operators also use the remote for lifting functions.
For operators who want to operate from the cab, they will find cab access compliant with the latest standards and equipped with the user-friendly Manitowoc Crane Control System (CCS) that has become standard across a variety of Potain cranes.
The T 99's compact 10.8-foot swing radius and small footprint, impressive hook heights, speedy cycle times, and industry-leading lift capacity made it ideal for the residence hall construction. For the duration of the project, the towers will primarily be moving concrete formwork.
Kane expects the T 99s to be in high demand. "Our customers will find new and exciting ways to incorporate these versatile and compact cranes into their challenging projects," said Kane, with an eye on future work similar to the residence hall, including hotels.