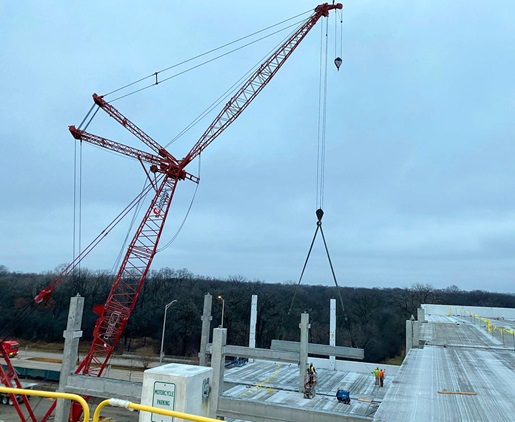 After 60 years, Chicago's Mile Long Bridge is getting a rebuild
Chicago's famous Mile Long Bridge is in the midst of a four-year, $4 billion reconstruction project that will completely replace the northbound and southbound traffic lanes. Upon completion, the two new bridge structures will increase capacity from four lanes to five lanes in both directions, a necessary addition for a roadway that 150,000 vehicles travel daily.

Work is beginning on construction of the northbound lanes, with Alsip, Illinois-based Central Contractors Service, a member of the ALL Family of Companies, providing cranes for the project.
The new northbound bridge structure is a mix of steel and concrete, with 27 spans supported by 26 piers. There will be nearly 300 total beams of various lengths and weights. The heaviest span consists of 181,720-pound precast beams, which will require tandem lifts with each crane picking and carrying 90,860 pounds.

The varying weights, lengths, and materials needing to be lifted called for a crane package that would be versatile in capacity and reach—and would also offer fast setup and a deft ability to traverse the terrain below. Below the Mile Long Bridge are two major railroads, three water resources and local roads, and a major distribution center for UPS and Burlington Northern Santa Fe (BNSF) Railway.
Central Contractors Service specified four cranes for the work, as well as variety of telescoping forklifts and aerial boom lifts. The cranes include three 330-USt Manitowoc MLC300 Series 3 crawlers and one 40-USt Grove RT540E rough-terrain crane.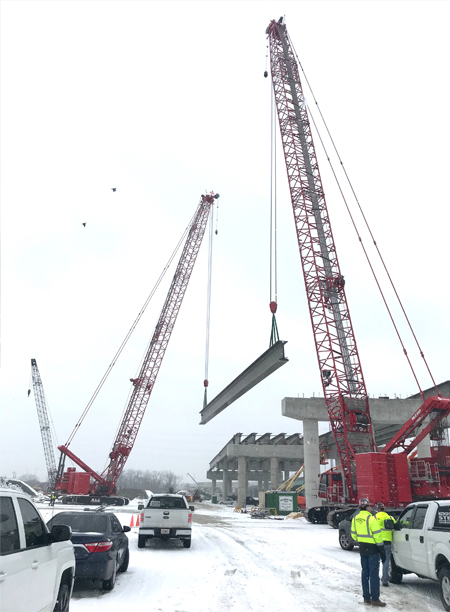 The MLC300s are equipped with Variable Position Counterweight™(VPC™) technology, which actively engages all counterweights and eliminates the need for passive carbody weights. Because of this, each unit has a dramatically reduced transport configuration and a better center of gravity for reduced ground bearing pressures. They also have the strongest load charts in their class; travel, swing and counter rotate with full capacity; and several design features that reduce setup time.
The MLC300s will be tasked with performing the many tandem lifts needed to position the heavier bridge pieces. Each is configured with 216 feet of main boom and 474,400 pounds of counterweight. Lift radius will vary from 60 feet to 110 feet.
"The new bridge beams are placed on the existing bridge, which is now closed to traffic," said Paul Urbanski, sales manager of Central Contractors Service. "The MLC300s are picking the beams from there and crawling with the load before setting them into position." This ability to crawl with a load is another reason the MLC300s were sourced for the job.
Work on this portion of the Mile Long Bridge replacement began in January and is expected to be completed in mid-summer. Afterward, work will begin on a new bridge for the southbound lanes. The goal is to maintain four lanes of traffic in both directions throughout the construction process.
About ALL
The ALL Family of Companies is the largest privately held crane rental and sales operation in North America, operating under the ALL, ALT, Central, Dawes, and Jeffers names. For a rental quote: 800-232-4100 or www.allcrane.com.