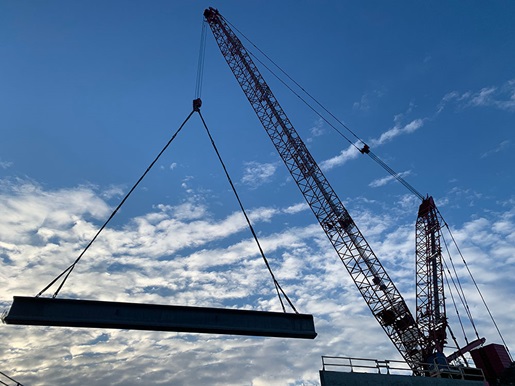 Building a brand-new highway interchange near O'Hare International Airport, the country's third-busiest, takes cranes. A lot of cranes. In this case, cranes from Central Contractors Service, a member of the ALL Family of Companies. Making sure all this equipment gets where it needs to go, at the right time, creates a scheduling vortex. At the center is Central's logistics department.

The brigade of all-terrain and lattice-boom crawler cranes needed to bring the project to fruition is truly staggering. ATs include Liebherr LTM 1500 (600 USt), Liebherr LTM 1350 (400 USt), Liebherr LTM 1250 (300 USt) Liebherr LTM 1160 (190 USt), Liebherr LTM 1130 (155 USt), Liebherr LTM 1120 (135 USt), and Liebherr LTM 1060 (60 USt). The crawler cranes include Manitowoc MLC300 (330 USt), one with main boom, one with luffing jib and another with VPC-Max, and Manitowoc 2250 (300 USt).

Nicholas Gillund, logistics manager for Central Contractor Service, says logistics performed three main job functions: securing the necessary permitting needed to deliver oversized loads, sourcing the actual lift equipment (most from Central's own yard, some from sister yards in ALL's network), and scheduling crane delivery and personnel to the job site.

Permitting can range from easy – maybe the crane is small enough that it won't require any permitting at all (although this a rarity) – to the complex; for example, when a single transport requires permits from multiple jurisdictions: state, Tollway, county, city, and local.

Then there are other things that come up. Gillund says a delivery of two 600-ton cranes to the interchange site in August serves as a good example, because they called for special short boom configurations.

"In this case, we needed to source both cranes from sister branches, one in Wisconsin, one in Indiana. Both cranes were to be fitted with short booms, which are three sections instead of the standard six," said Gillund. "Short booms are rare in the industry, and our company has more of them than most, but they're still spread across the entire national footprint. So, we're not only sourcing cranes, we're tracking down the short booms from other sister branches as well."

Once equipment is ready for delivery to the job site, logistics coordinates with ALL's internal trucking division. "We're fortunate to have our own dedicated trucking division, which creates operational efficiencies for our customers. Our branch alone has 10 drivers. We're not beholden to a third-party trucking company's schedule," said Gillund. "Each of these 600-ton cranes required 16 truckloads. Having our own drivers is a huge advantage to us and our customers. They're specialists at getting around the city and our job sites, and they know many of our customers personally."

The logistics department uses fleet management software to assist with its duties – but sometimes, old-fashioned pen and paper is called for, too.
"Things happen pretty fast," said Gillund. "You're fielding calls for a future project while securing permits for a job next week, at the same time you're prepping a crane for delivery that day. Jotting down notes to yourself is a must." In the end, said Gillund, "you have hundreds of digital files and a ream of paper, and few will ever know that's how we help ensure a job well done."