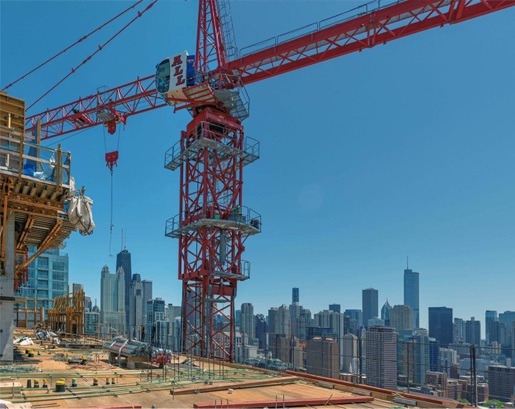 The newest gleaming skyscraper of poured concrete and glass in downtown Chicago is One Chicago Square, named for its location at 1 W. Chicago Avenue. The 971-foot mixed-use tower represents a landmark for the ALL Family of Companies, as building it required the tallest tower crane the company has ever constructed. The final hook height of the Potain MD 485 stood at 1,018 feet, consisting of an astonishing 62 tower sections and seven total tie-ins.

Central Contractors Service, a member of the ALL Family of Companies, provided it and two other tower cranes for the construction project, including a second MD 485 and MDT 389. The One Chicago project takes up an entire city block, comprising two towers rising from a shared podium. These two additional tower cranes assisted with construction of the podium and the shorter tower. (Shorter being a relative term here, as it is a 574-foot structure requiring a tower crane with a hook height of 641 feet consisting of 39 tower sections.)

Engineers from crane manufacturer Potain and customer McQ's Concrete Construction worked with specifications provided by Central to map out the tower crane's climb schedule and tie-in design.

"The MD 485 was chosen for this job because of its capacity and line speed," said Paul Urbanski, sales manager for Central Contractors Service. "Once engineering worked its magic, our skilled technicians and support staff took over to execute the plan, minimizing downtime and maximizing hook time for the customer."

Urbanski says executing a tower crane job of such great heights requires planning and logistics—but that's how they approach any job.
Initial steps included meeting with the service department, discussing tie-ins and the material needed to execute them, taking an inventory of tower sections in the yard, and setting the groundwork for a climb schedule.

"We worked with Potain to strategize the fewest number of tie-ins," said Urbanski. "It's a matter of looking at the best floors to tie into to maximize hook height above that floor."

They also had to consider the climb schedules for the other two cranes. "In the beginning it's very time consuming … hundreds of hours of engineering and layout to make sure everything works," said Urbanski. "It's like building a fine watch."

The Central team is experienced in these matters. In a previous job for this same customer, the branch provided a tower crane that was just two tower sections shorter than this new record-holder.

Work on the shorter tower is mostly done, with construction on the taller scheduled to be completed by the end of the year.
Read the original story and other stories from the latest issue of the ALL Family of Company's Lift Line magazine.