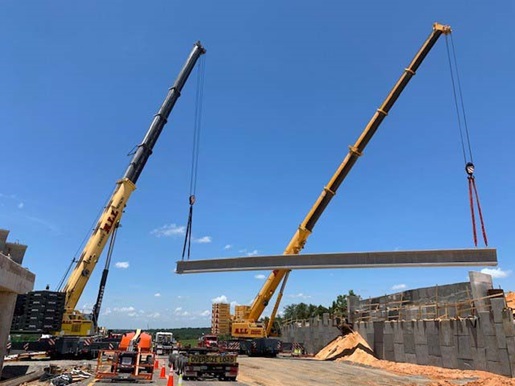 Improvements to the Florida Turnpike roll on with two bridge widening projects in Lake County in the central part of the state. ALL Sunshine Crane Rental, a member of the ALL Family of Companies, provided heavy lift equipment to Lane Construction, the project's general contractor. The crane work was to be conducted in a series of dual picks, with most work to be done at night to reduce the impact of lane closures on local traffic.

Dual picks automatically become critical lifts, and nighttime execution adds a further degree of difficulty. "All lifts require everyone on the team to work together toward a common goal," said
Tom Robertson, sales rep with ALL Sunshine Crane Rental. "We have a great team here at our branch, and across the ALL family, so we all did our part to achieve the customer's objectives safely and efficiently.

ALL specified two high-capacity all terrain (AT) cranes for the work, a 450-USt Grove GMK6400 and 400-USt Liebherr LTM 1350-6.1. The first bridge to be redone was located at Scrub Jay Road (named for the round-headed, blue-gray bird found only in Florida), consisting of ten total concrete beams weighing 110,000 pounds and extending 110 feet across.

For the Scrub Jay Lane Bridge, the Grove, which has the higher capacity of the two cranes, was set up in the median of the northbound turnpike lanes, configured with 130 feet of main boom and 220,000 pounds of counterweight. The Liebherr set up across the road, also configured with 130 feet of main boom, but with 308,000 pounds of counterweight.

Each beam came in on a truck, in the direction that the beam would ultimately sit. Ends were marked, with the west end of beam coming in first and east end coming in second. The lower-capacity Liebherr picked up the east end, the Grove picked up the west, and both cranes swung the beam to get the west end of the beam past the Grove. Then they swing back and boom down to the set point. Four days were allotted to pick and set the ten beams.

Scrub Jay Lane bridge is expected to reopen in the Spring of 2024.

For the second bridge, this one located at US 27 and the turnpike, the same two cranes were employed, set up in similar fashion. The Grove had to set up in an exceptionally narrow median, necessitating the closure of an additional lane. Eight total beams were set.

One side of the existing bridge remained open during construction to maintain traffic. Once this new portion is completed, traffic will divert to it and the other half will be constructed, with the old bridge removed. That work will continue later this year.

"These projects take an exceptional amount of planning and coordination. In the end, truck drivers and crane operators make these jobs a reality and, to an outsider, they make them look easy," said Robertson. "As a former heavy-haul truck driver and limited operator, I appreciate how these pros make us all look good."