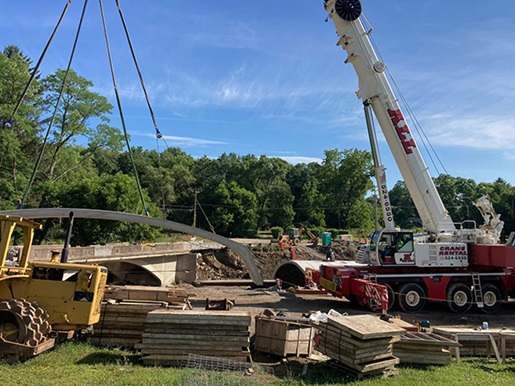 In the bucolic environs of Northeast Ohio's Geauga County, history and progress have always existed side-by-side. When a historic bridge approached the century mark, county engineers came up with a way to retain its charming presence while still providing a modern conveyance for vehicle traffic.

The solution? A brand new precast concrete bridge will bypass the nearly century-old Luten arch bridge, improving vehicle traffic flow while maintaining the historic bridge for horse and buggy travel for the community's Amish population. The Bundysburg Road bridge project realigns the intersection with Swine Creek Road, providing relief to the original Luten arch bridge that was built in 1930.

ALL Erection & Crane Rental, flagship branch of the ALL Family of Companies, provided an all-terrain crane to assist with construction of the precast bridge, specifying a 300-ton capacity Liebherr LTM 1250-6.1.

Precast arches for the 56-foot span were delivered in 26 sections, with the heaviest piece weighing 25 tons. The Liebherr LTM 1250-6.1 picked and set the sections over a four-day period. The new bridge also has 11 wingwall segments and seven headwall segments. The pieces came in horizontally on trailers, which were backed down the road a mile and a half.

Setting the concrete arches involved a finesse move rare for single picks, because the operator needed to rotate the horizontal piece to a vertical position. It's a maneuver that isn't needed for standard box culverts.

"We accomplish the rotation by running two hook blocks off the main head with an auxiliary winch and a main winch," said Brian Meek, sales rep for ALL Erection & Crane Rental. "The operator lifts the piece horizontally off the trailer, while the other line is hooked to the face of the arch and rotates in the air. It requires meticulous planning, a steady hand, and some ALL engineering magic."

Because of the unusual angle of the intersection, the new bridge is exceptionally large in relation to the width of the roadway, which is a standard 24 feet. The new bridge is 56 feet across and 105 feet long to allow for the 45-degree angle of the intersection. The Geauga County engineers office elected to use arches instead of culvert boxes because they can span wider distances.

"The new bridge is exactly what this intersection needed," said Meek. "Meanwhile, the original bridge is still there for residents to enjoy."