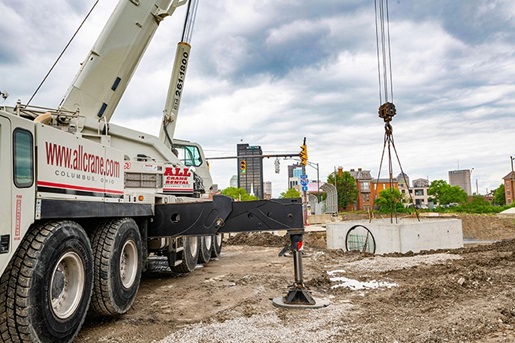 The Ohio Department of Transportation's 70/71 Columbus project, also known as Columbus Crossroads, rolls on with improvements to the East Broad Street bridge over I-71. It's part of a multiyear, multiphase effort to streamline traffic throughout Columbus, reduce congestion, and make the interstates less intrusive to neighborhoods along their routes.
As part of phase three of the project, the East Broad Street Bridge is being completely rebuilt to accommodate wider sidewalks, decorative features, and green space. As a result, the west bridge abutment has to be moved approximately 40 feet. This, in turn, will expose existing sewer lines, requiring the installation of new sewer infrastructure. Kokosing Construction Company Inc. is performing the work with an assist from ALL Crane Rental Corp., a member of the ALL Family of Companies.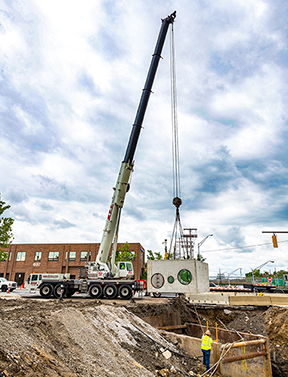 ALL provided a Link-Belt ATC-3275 to place two new precast drainage structures. The sewer siphons will take flow from a 48-inch sanitary line and siphon it into three different pipes under the interstate. The precast pieces are extremely large, measuring 17 feet long, 14 feet wide and 7 feet high, and weighing in at 64,000 pounds each.
The 275-USt ATC-3275 had the capacity to easily handle the pieces and the mobility to maximize the limited access near the work area. "They were maintaining several lanes of traffic across Broad Street," said Chris Kirk, sales representative for ALL. "Because we needed to position the new pieces halfway down the slope to 71, there wasn't a lot of excess space to work with." The crane was positioned just off the roadway at the top of the embankment.
The Link-Belt ATC-3275 was configured with 117 feet of main boom with a 360-degree lift radius of 45 feet. "For stability, outriggers were set at 100%, and the crane was equipped with 102,000 pounds of counterweight," said Kirk. "At this configuration, the crane capacity was 93,500 pounds—more than enough to accommodate the 64,000-pound workpieces."
Each sewer piece was trucked to the job site on its own flatbed. With the flatbed parked on the roadway, ALL's operator picked the piece, lifted it, and swung it approximately 45 degrees to the right before lowering it in place near the existing sewer connections. Final placement required a steady hand as the piece had to be lowered into a protective box that had already been assembled. Setting both pieces was just a day's work for the ATC-3275.
The unit is known for its mobility, which made travel to and from the site a breeze. "The roadworthiness of the ATC-3275 makes it a good choice for certain urban construction work where access can sometimes be problematic," said Kirk.