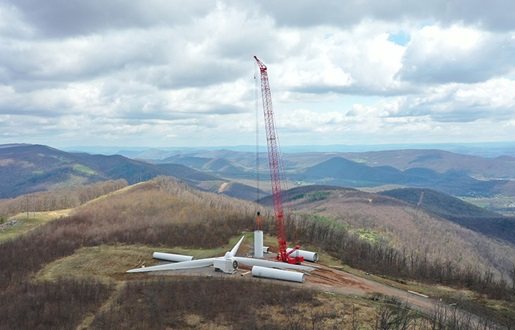 Wind energy has been a reliable market for lift equipment in recent years, with new and expanding wind farms always happening. Now, the repower market has created a new niche. In a repower, existing wind farms are refurbished with updated equipment and, in some cases, taller towers.

Clearway Energy's Pinnacle Windfarm underwent a repower this year to modernize equipment. The 55-megawatt, 23-turbine wind farm is located in Keyser, West Virginia, in the northeast part of the state. The electricity generated actually services the state of Maryland, specifically the University System of Maryland, the state's public higher education system, with 12 universities and 3 regional higher education centers, and Maryland Department of General Services.

Pinnacle has existed since 2012, and turbines were reaching the end of their service life. The repower involved taking towers to their foundations and rebuilding with all-new towers, turbines, and components. ALL Crane Rental of Pennsylvania, a member of the ALL Family of Companies, provided lift equipment for both the demolition phase of the old towers and the erection phase of the repower.

Work took approximately three to four months for each phase. Both phases showcased the capabilities of the 440-USt Manitowoc Series 4 16000WA crawler, along with a host of additional equipment also provided by ALL.

Each 16000 was configured with 301.8 feet of main boom with 24.9 feet of extended upper boom point, 368,000 pounds of counterweight, and 120,000 pounds of carbody counterweight.

The demolition phase, which began last spring, started at one end of the wind farm and took each turbine down in sequence. In addition to the 16000, ALL also provided the 220-USt Manitowoc 14000, two rough terrain cranes, a 135-foot man lift and a 10,000-pound telescopic forklift.

For the repower phase, two Manitowoc 16000s were used along with two 275-USt Manitowoc 999s. In addition, there were 80- and 90-ton rough terrain cranes and two RTs with 130-ton capacities, as well as two 60-foot articulating man lifts and two 10,000-pound telescopic forklifts.

The reason for the increase in equipment for the second phase was to complement the erection strategy.
"We had two of everything for the erection phase because two crews started at opposite ends of the farm and worked toward the middle," said Mark Damich Jr., sales specialist for ALL Crane of Pennsylvania. "So we needed two main cranes, two tail cranes, a pair of identical man lifts, and telehandlers to move mats for both teams."

Nacelles came in shipping crates so large, the 60-foot man lifts were needed to remove the crating and prep the nacelles for lifting. Once unpacked, the 16000s were used to lift it atop the finished towers.

ALL not only provided equipment, but also handled delivery logistics using its own trucking division, which paid huge dividends. "Some of these cranes each took 18 loads to get to the site," said Damich. "In all, we trucked 97 loads each way. Having our own trucks and trailers to get the job done gave us major flexibility with scheduling and saved time for our customer. This was a big project with critical hook-ready dates that had to be met. There's no way a company using third-party trucking would have been able to provide the same value."

"With the demo of the old windmills and the erection of new, this was like two projects in one," said Damich. The result is 23 repowered turbines ready to deliver power to the Maryland customers.