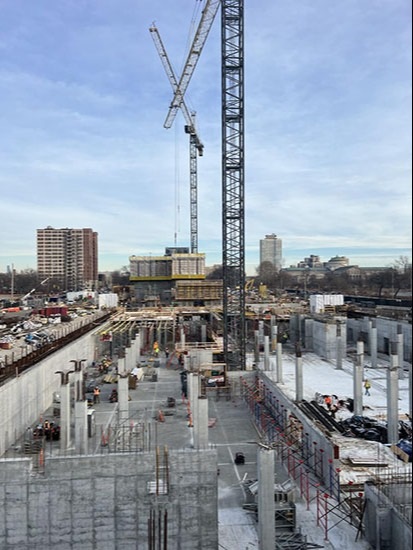 Construction has begun on the Barack Obama presidential library in the Jackson Park neighborhood on the South Side of Chicago. The Obama Presidential Center will include a museum, library, gardens, and common spaces. The expansive site is larger than three football fields, requiring three tower cranes to cover the construction zones as well as a host of additional cranes to support construction operations.

These tower cranes as well as related assist cranes are provided by Central Contractor's Service, a member of the ALL Family of Companies. The concrete contractor for the job is a project-specific joint venture known as Concrete Collective, consisting of three construction firms: II in One Contractors, Thrice Construction, and W.E. O'Neil Construction.

The towers are positioned to get full coverage of the 300' x 1000' project footprint. Crane No. 1 covers the concrete lay down area, Crane No. 2 covers the main building, known as the Forum, and the actual library building, and Crane No. 3 covers the parking garage. All three tower cranes have top tracing systems to prevent crane contact.

Crane No. 1 is a Peiner SK415 with a 196-foot hook radius and final hook height of 292 feet. Crane No. 2 is also a Peiner SK415, this time with a 213-foot hook radius and final hook height of 169 feet. Crane No. 3 is a Potain MD485 with a 262-foot hook radius and 99-foot final hook height.

Having three towers on one job site but each working its own independent zone is rare, as typically there is some overlap in work zones on sites with multiple towers. However, what might be most notable about the job is the range of support cranes Central is providing, from a 550-ton all terrain crane all the way to a small, 9-ton carry deck crane.

"We're pleased to be part of such a high-profile project," said Sam Moyer, general manager of ALL Tower Crane. "It also enables us to showcase the broad fleet of cranes we offer across the ALL Family. This individual site has a wide variety of crane types in addition to the towers, all provided by ALL, working together to achieve the customer's goals."

In addition to the towers, Central is also providing an 80-ton capacity Link-Belt RTC-8080 rough terrain crane to assist tower No. 1 with assembly of formwork, 50-ton capacity Link-Belt TCC-500 hydraulic crawler crane to install caissons and sheeting, 550-ton capacity Liebherr LTM 1450-8.1 all terrain crane to assemble and disassemble all three tower cranes, and 9-ton capacity Broderson IC-80 carry deck crane for use on the parking garage once the No. 3 tower crane is removed.
In addition to its main Forum building, which houses the museum, the Obama Presidential Center will be home to a new branch of the Chicago Public Library, a first-of-its-kind partnership that will provide almost every South Side resident with access to a public library within walking distance. Features will include interactive digital media spaces and amenities for children, informational and vocational resources for adults, and a reading room.