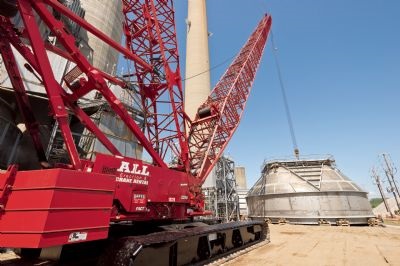 For Central Rent-A-Crane, Inc., ALL's Indiana division, power plant modernization work is a key market, with crawler cranes at the core of the projects.
Within the confines of a power plant, it's important to utilize lift equipment that is easily maneuverable and versatile. Often, lifts must be conducted within tight, congested workspaces—sometimes by several cranes at once—and usually under strict timelines in order to minimize plant downtime. The presence of underground pipelines and vaults mean that ground bearing pressure is also an important factor to consider when selecting the right cranes for each job.
At a 2,600-MW coal-fired power plant in the southernmost tip of Indiana, Central provided four crawler cranes (along with skilled operators and mechanics) ranging from 300-USt to 825-USt capacities as part of a major modernization project for Power Unit 1 of the plant's two 1,300-MW units. The plant's owners are installing Selective Catalytic Reduction (SCR) technology to help reduce nitrogen oxide (NOx) emissions. The project began in November 2015 and is expected to finish in 2017.
(2) Manitowoc 2250 crawlers, (1) Manitowoc 18000 crawler
A 300-USt Manitowoc 2250 crawler, equipped with 160 feet of main boom and a 170-foot luffing jib, began erecting steel on site at the project's outset; it was followed by a new Manitowoc 18000 crawler equipped with 240 feet of main boom, a 190-foot luffing jib, and a MAX-ER attachment. The MAX-ER enabled an increase in lifting capacity to 825 USt. Another Manitowoc 2250 crawler is on the job, primarily unloading and assembling ductwork for the SCR conversion project.
(1) Manitowoc MLC300 crawler
The fourth crawler on the site, assisting with steel erection and other building support work, is one of ALL's new 330-USt MLC300s, equipped with 197 feet of main boom and a 177-foot luffing jib. Advanced counterweight technology on the MLC300 allows the machine to work with a smaller footprint, less weight to transport, and reduced ground bearing pressure.
But Central does more than just provide the right equipment for the job. It carries the ALL Family reputation for service along with ability to sync the customer's timetable with the equipment's availability. With their previous experience at this plant, Central was uniquely qualified to handle the project.
For months, planning meetings and visits to the plant occurred, during which Central fine-tuned suggested lifts and scheduling while also making equipment recommendations that would save time and money.
Drawing from their substantial power plant experience, they devised strategies like equipping the 18000 with the MAX-ER attachment to increase lifting capacity or specifying the MLC300 with its smaller footprint. These are options only possible when you have access to a large variety of cranes and know how to best utilize the machines onsite.
The structural steel construction was completed in late summer 2016, and the MLC300 moved on to assist with steel erection. The 18000 crawler then placed new ductwork for a large structure that will top out at six stories high, including a 30-foot-square steel box that will act as a catalyst chamber. There are 43 pieces of ductwork in all to lift and set, ranging from 48,000 to 145,000 pounds.
As power plant owners in the U.S. continue to modernize their operations, they'll continue to need cranes. The ALL Family has proven to be a reliable, experienced partner to plant owners and operators—and to the contractors and subcontractors who work with them on complex modification and rehabilitation projects.
# # #
This article was originally published in ALL's Lift Line magazine, Spring 2017.