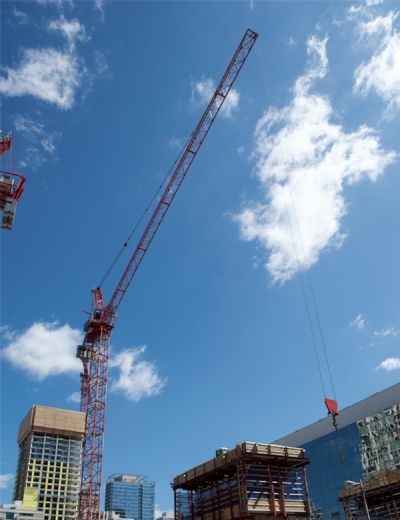 Manitowoc released this story on Thursday, July 21, 2016.
----------------
The maneuverable luffing jib of a Potain MR 605 B is keeping the construction of an apartment tower in the River North neighborhood of Chicago on schedule. With another construction project also using a tower crane just across the street, contractors are able to adjust the MR 605 B's boom so the crane avoids nearby buildings and equipment.
Paul Urbanski, sales manager for
Central Contractors Service
, a division of the ALL Family of Companies, said the 35.2 USt capacity MR 605 B was chosen for its adaptability in congested urban settings. The crane is hoisting rebar, waste debris and concrete-filled aluminum buckets to heights of up to 380 ft, and it's doing so while avoiding the swing radius of the crane on the neighboring job site, less than 150 ft away. The MR 605 B's ability to work in close proximity with other cranes enables contractors to keep to a demanding schedule in downtown Chicago, a crowded work environment where development is booming.
The new apartment tower will stand 39 stories tall and contain 450 residential units upon its scheduled completion in January of 2017.
# # #