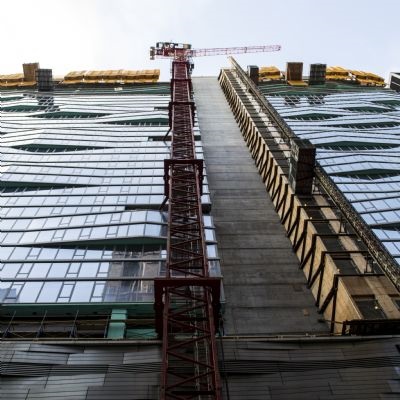 Manitowoc published this article 09/21/15
It's a common challenge when working in a busy city like Chicago: there just isn't much space to erect a crane. It's even more of a challenge to erect a crane in such conditions on top of an existing building. But James McHugh Construction did just that, employing a unique tie-in solution to erect a Potain MR 415 on one of the city's busiest streets, using an existing building as a foundation.
Block 37 is in Chicago's famed loop and got its name for being one of the city's original 58 blocks. Its boundaries are Randolph Street, State Street, Washington Street and Dearborn Street. The building occupying the block has had a checkered past, with a series of foreclosures and failed retail attempts. To make better use of the space, construction began in 2014 to add a 34-story apartment building on top of the existing five-story complex.
In June of 2014, McHugh began lifting work on the tower, renting a 26.5 USt Potain MR415 from Central Contractors (Central) in Crestwood, Illinois, a branch of the ALL Family of Companies (ALL), headquartered in Cleveland, Ohio. The crane is known for its versatility, allowing crane bases to be interchangeable with Potain's MD and MDT cranes, enabling several different internal and external climbing crane configurations.
Paul Urbanski, sales manager with Central, said the tight working quarters demanded a luffing tower crane be used on the job, and that the MR 415 was an ideal fit with its 26.5 USt capacity and ability to tie in via several different configurations.
"The MR 415 was initially erected on 11 tower sections so that its jib would clear the historic Cadillac Theatre, which is just across the street, when it was stowed," he explained. "With a lack of space below for a spread foundation, the crane was tied in at the 5th floor (a height of 78 ft) during the initial assembly to reduce the foundation reactions."
The MR 415 got an assist from another Manitowoc-made crane during its erection, a 550 USt Grove GMK7550 with 121 ft of luffing jib. Urbanski said the erection was challenging, with limited space on Randolph Street below, but that the Grove all-terrain offered the maneuverability to traverse the congested site. When the MR 415 finishes the project in September 2015, the same Grove will disassemble it using a fixed jib.
"The unique thing about the Block 37 project is that before the concrete construction could begin, 20 ft-tall steel trusses with segments that weighed as much as 40 USt were erected on the roof to support the additional 34 floors of construction," Urbanski said.
Since then, the crane has been lifting construction materials for the job—the heaviest being 10 USt at heights up to 467 ft. Urbanski said the MR 415's single part line capability was an added plus on the job, as it gave McHugh's operator approximately 9.4 USt at 164 ft and approximately 13.2 USt at 120 ft. This allowed him to jump formwork from floor to floor without having to switch to dual part line.
When complete, the new apartment tower at Block 37 will have 690 apartment units, making it one of the tallest apartment buildings to be constructed in Chicago's loop in decades. The structure will include an outdoor pool and spa, rooftop spa and fitness center.