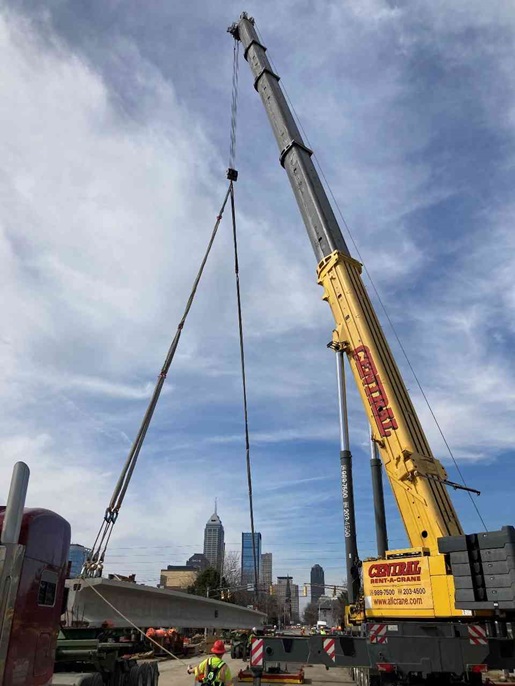 The reimagining of downtown Indianapolis' highway interchanges is sticking to its aggressive schedule. Begun last summer with a plan to build 50 new bridges in just 18 months, by mid-winter, multiple bridges are partially completed to maintain required traffic switches, with 24 total bridges in some phase of construction and several already complete.

The original I-65/I-70 North Split interchange was built nearly 50 years ago and reached the end of its useful life. The new project will completely reconstruct the interchange, bridges, and pavement, marking the first major changes since construction began in 1968. The new interchange will have a smaller footprint and improve safety by eliminating the weaving sections where traffic is forced to cross paths. Eliminating the weaves will also remove the most severe bottlenecks in the interchange, allowing for improved traffic flow without adding new through lanes.

Central Rent-A-Crane, a member of the ALL Family of Companies, is providing cranes for design-builder and general contractor Superior Construction.

One of the new bridges nearing completion is a flyover bridge for I-70 East, which has nine spans and required four heavy-lifting cranes. The package included three all-terrain (AT) cranes including 500-USt Liebherr LTM 1400, 550-USt Grove GMK7550, and 600-USt Liebherr LTM 1500, working with a Superior-owned crawler, 275-USt Liebherr LR 1250.
The cranes were used in various combinations throughout construction of the flyover bridge to perform a series of single- and dual-crane picks to lift and set bridge beams in seven beam lines across the piers. In most cases, either the 500-ton capacity LTM 1400 or 550-ton capacity GMK7550 was paired with Superior's crawler. The AT and crawler were positioned at opposite piers and picked their respective beam ends. In some cases, the AT would set its end on the pier while the crawler hoisted up and crawled into position.

For one span of the structure, the 600-USt LTM 1500 was utilized to perform single picks because job site conditions precluded using two cranes. To the north, existing traffic had to be maintained on eastbound I-70. To the east was existing traffic on College Avenue. Local businesses are located along the south side. In these instances, the Liebherr LTM 1500 was given more detailed rigging to help it individually hold the beam at the correct slope while picking and setting.
The precast concrete beams range in size from 100 to 164 feet long, weighing between 130,000 and 212,000 pounds.

With each span requiring seven beams, the goal was to set one span per day. Then cranes would have to move to the site of the next span.

Across the entire North Split project, Superior has set 156 total beams and is at the midpoint of the total project. With a little more than nine months to go, the construction team is on pace to complete the 50 bridges on schedule.