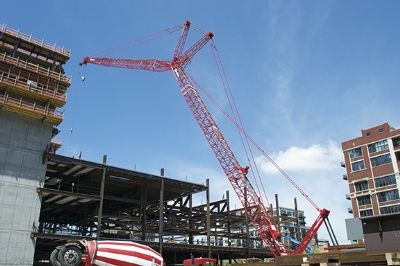 A
Manitowoc MLC300
crawler crane owned by
Central Contractors Service
, a division of the ALL Family of Companies, is constructing a new hotel at McCormick Place in Chicago, Illinois. Paul Urbanski, sales manager at Central, said that the 330 USt MLC300 was the best choice for the job thanks to the low ground bearing pressure made possible by its Variable Positioning Counterweight (VPC).
Central originally planned to use another 300 USt crawler crane, but the job site's close proximity to a foundation wall made that choice impractical – the crane needed to be situated directly over a 30 ft-deep basement cavity, so a lifting solution with similar capacity but lower ground bearing pressure was necessary. The MLC300 is lifting 50 USt trusses and 5 USt steel bundles to heights of more than 70 ft as it helps construct the new hotel that will host guests of McCormick Place, the largest convention center in North America.
The project began in January of 2016 and is scheduled to finish this summer.