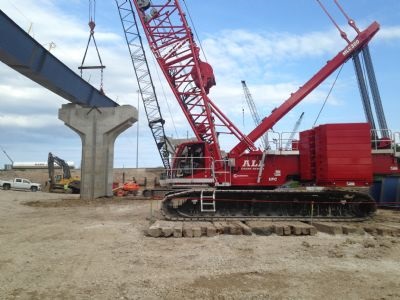 Manitowoc published this article on 08/17/2015.
Manitowoc's new MLC300 crawler crane, which features the patented Variable Position Counterweight (VPC), made a big debut at CONEXPO 2014. One year later, a new MLC300 has performed on its first job site, and the owner couldn't be more pleased with its performance.

The MLC300 belongs to Milwaukee, Wisconsin-based Dawes Rigging & Crane rental, a member of the ALL Family of Companies. It's one of the 10 MLC300s ALL purchased for its fleet.

Dawes rented the crane to Lunda Construction, which is based in Black River Falls, Wisconsin. Lunda is using the new crane for a highway project at the Zoo Interchange, just west of Milwaukee. The project is a $1.7 billion reconstruction of what has become one of the state's busiest highway travel corridors.

Joe Ruddell, sales manager of the rental division at the Dawes Milwaukee location, said ALL had considered suggesting another large crawler crane for the job, but the MLC300 offered unique advantages that no other crane could replicate.

"As with any job for the Department of Transportation, there are going to be restrictions, specific time frames in which we can work and guidelines that have to be followed. One big challenge is the limited space we have to situate the crane in, along with having to move the crane from one location to another in a limited amount of time over uneven ground conditions," he explained. "The MLC300 offers a smaller footprint than other crawler cranes and its VPC counterweight system is perfect for this job. The reduced footprint and added stability really matter when the crane is sitting on limited real estate between eastbound and westbound lanes of the freeway with traffic whizzing by."

Lunda contracted with Dawes to furnish the crane as a bare rental for the Zoo Interchange project. On the site, Lunda is using the MLC300 to lift and set large tub girders that will support a ramp from Highway 45/I-894 northbound to I-94 westbound. The heaviest tub girders weigh approximately 68.5 USt. Lifts are reaching up to 60 ft. The crane is setup with 157 ft of main boom and 190 USt of counterweight.

The MLC300's VPC, which Dawes called "revolutionary," dramatically cut the costs of preparing the job site for lifts, the company said. The counterweight system automatically positions the crane's counterweight to maintain a center of gravity closer to the center of rotation, which reduces ground-bearing pressure, and therefore, ground prep. It also means the crane needs less counterweight to complete a lift, again lowering ground-bearing pressure. Additionally, fewer loads of counterweight need to be delivered to the job site, saving additional costs.

"The MLC300 has afforded us greater lifting capacity and more stability, and it needs less ground prep time and less matting," Ruddell explained. "With the MLC300 and its VPC system on an average job, we can reduce the number of required mats by 50%. That can mean thousands of dollars in savings per month."

During Manitowoc's load testing over the last year, the MLC300 was determined to have the strongest load chart in its class, at 330 USt. It also features a 315 ft boom, again one of the best specifications in its class. A VPC-MAX configuration is also available for the crane, which can boost its capacity to 4119 t-m.

"A 'best-in-class' load chart allows for more and heavier lifts in the same time frame," added Ruddell. "The MLC300 will help us deliver some significant time and cost savings, and help boost productivity for our customers," he added.

The Zoo Interchange project began in 2013 and will continue through 2018. Dawes is also providing additional lift support on site with other cranes and aerial lifts from its fleet. When the job wraps up, ALL said the MLC300's quick disassembly will save on resources, too.

"There are savings in assembly and disassembly time with Manitowoc's VPC-enabled cranes," Ruddell said. "A real advantage with the VPC system is the ease and stability in moving the crane from one location to another, even over rugged terrain. It helped when Lunda had to crawl the crane across certain sections of the freeway in a limited time frame during lane closures, too." Dawes is a member of the ALL Family of Companies, which is headquartered in Cleveland, Ohio. Dawes has been operating in the Midwest since 1948, providing a large selection cranes and lifts. The company is a leading member of the Specialized Carriers and Rigging Association and works with all types of contractors, including general, HVAC, industrial, foundation, roofing, road and bridge builders.

Founded in 1964, ALL has grown to become one of the largest crane and equipment rental companies in North America. The company offers its fleet of cranes, aerial work platforms, boom trucks, material handlers and other lift equipment throughout the U.S. and Canada. It also provides rental, sales, service and jobsite analysis for its customers.
Lunda Construction was founded in 1938 and is a division of Tutor Perini, one of the world's largest construction companies. It specializes in bridge and highway construction, as well as other large-scale civil projects, such as railroads and marine facilities.