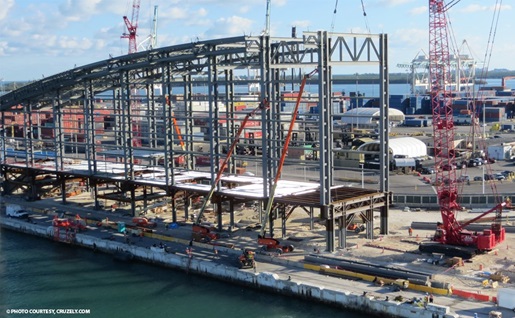 Ocean cruises are among the most popular vacations, and the Port of Miami is the world's busiest cruise hub. Just as the ships have grown larger and more impressive in recent years, so have cruise line terminals. Norwegian Cruise Lines (NCL) is the latest to invest in a serious upgrade of its terminal presence in Miami. A new facility expected to be completed this fall will be almost 166,500 square feet and offer grand ocean views with its modern steel and glass design and openness to the water.
ALL Sunshine Crane Rental of Florida, a member of the ALL Family of Companies, is providing cranes for the project. They were contracted by LPR Construction of Loveland, Colorado, which is overseeing steel erection.
ALL Crane has a Manitowoc 16000 Series 3 and two Manitowoc 14000 Series 2s on site for handling the massive steel sections required to build the new terminal's skeleton. The 16000 is configured with 138 feet of main boom, 118 feet of luffing jib, and full counterweight. One of the 14000s has 243 feet of main boom, while the second has 134 feet of boom and 110 feet of luffing jib.
"LPR has a lot of experience in the Miami market and we've worked with them on numerous projects" said Steve Johnson, sales representative from ALL Sunshine Crane Rental. "We've built up a level of trust. These cranes provide the capacity and reach needed to complete this high-profile project on time, on budget, and with safety as the top priority."
For this terminal, steel is not only a structural component, but also a decorative one. The entire steel frame will be cladded in glass, and the steel supports will be visible to visitors. The structure has been likened to a large Quonset hut, but sheathed in glass rather than metal.
The cranes were tasked with lifting steel beams, girders, and C-shaped end caps in a variety of sizes and weights, ranging from 100,000 to 140,000 pounds. "There were large roof trusses that are over 18 feet wide and 60 feet long, lace columns with expansion joints that are W30 by 391, boxed in on both sides with 12 by 12 as wrungs … It's a job that really showcased the capabilities of these cranes," said Johnson. Most pieces required dual picks, making this a job full of critical lifts.
"In the dual picks, the 16000 was the lead crane, with one of the 14000s tailing off the back and, for these lifts, the picks were considered critical lifts," explained Johnson. Critical lifts are defined by the industry as those wherein the load exceeds 75 percent of the rated capacity of the crane or lifts requiring the use of more than one crane. "The hard work, planning, and preparedness of the whole team—particularly at times like these—demonstrate the importance of needing more than versatile, powerful equipment. It speaks to the importance of specifying the right cranes and assembling true crane leaders for the job."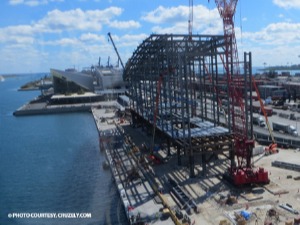 The Port of Miami is a unique piece of real estate. It is expansive, yet also packed with commercial shipping as well as the cruise line terminals. Plus, it's on an island, accessible only by tunnels and bridges. These factors create an environment that can at times feel congested very quickly.
For example, the delivery of the 16000 required 22 trailer loads, and staging and setup had to be done in very close quarters. The job required ingenuity from the start.
Mike Weaver, special projects manager for ALL Crane, supervised the setup for all three cranes. "The Port of Miami is a busy place," said Weaver. "At any given time, you can have 10,000 passengers and crew getting off a cruise ship and another 10,000 getting on."
Weaver says they were able to use a nearby parking lot as a staging area for the 22 loads, with individual pieces delivered to the Norwegian site. The crane had to be assembled on the actual job site because there would have been no room to maneuver it from the staging area. "Over the course of two 12-hour days, we got it done."
About ALL
The ALL Family of Companies is the largest privately held crane rental and sales operation in North America, operating under the ALL, ALT, Central, Dawes, and Jeffers names. For a rental quote: 800-232-4100 or www.allcrane.com.