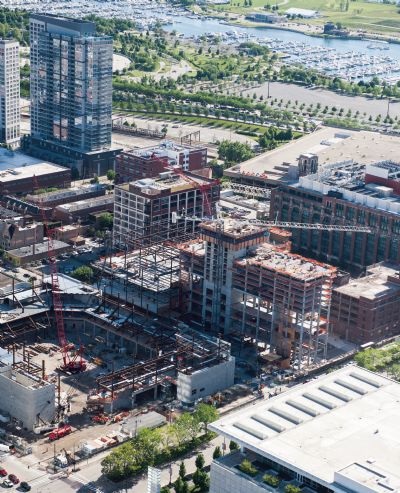 Three big crawlers and a tower crane are making a fresh connection to the new Collection at McCormick Square in Chicago.
Chicago's famed McCormick Place convention complex is growing, and a member of the ALL Family is assisting with the construction. Illinois-based Central Contractors Service, Inc. is providing cranes and support for the building of the new 10,000-seat, 300,000-square-foot Wintrust Arena and the adjacent Marriott Marquis Chicago hotel. McCormick Place is the largest convention center in North America, attracting almost three million visitors annually.
The new multipurpose sports arena and event center will become the home of the men's and women's basketball teams from DePaul University and also will host concerts and other sports events. The new 40-story Marriott hotel will have 1,200+ rooms and more than 90,000 feet of meeting space. Connecting the new facilities directly to McCormick Place convention center and the existing Hyatt Regency hotel will create the newly named Collection at McCormick Square—linking the venues under one roof.
Central provided four cranes—three crawlers and a tower crane—as well as operators for these projects. Construction began in November 2015, with the venues slated to open this year.
Terex HC 165 crawler
Concrete played a big role in Wintrust Arena's interior, where hundreds of 20-foot-long, 40,000-pound precast concrete sections had to be set as riser seating bases. For six weeks, Central's 165-USt Terex HC 165 crawler crane, equipped with 80 feet of boom, handled the precast sections. The crawler's capacity and maneuverability made it ideal for the job, able to maintain a high lift capacity at a low boom angle while staying under the arena's steel roof trusses.
Manitowoc 2250 crawler
The 95,000- to 100,000-pound roof trusses had been previously set by Central, employing a 300-USt Manitowoc 2250 crawler. The reliable 2250 is right at home handling lift-all-day-every-day major projects like this one. It was on site for a year.
Manitowoc MLC300 crawler
The impressive 330-USt Manitowoc MLC300 worked for several months on construction of the Marriott Marquis Chicago. This thoughtfully designed mod-ern crane offers the benefit of reduced ground pressure with its cutting-edge VPC (variable position counterweight) system. The counterweight moves from front to back of the crane, maintaining the center of gravity while allowing for fewer mats and less ground prep. That saves time and money.
Peiner SK415 tower crane
For several months, a Peiner SK415 tower crane also assisted with the hotel's construction. Tower cranes are popular in high-rise projects, especially on congested urban job sites. Erected at the side or center of a site, a hammerhead tower crane like this one grows as the building rises by raising itself from floor to floor using built-in hydraulic jacks. With its advantages of dramatic height and quiet operation, the SK415 was ideal for this Chicago project.
Because each crane was involved during different phases of construction, the customers saw the benefit of ALL's large fleet. Central was able to provide the diverse equipment they needed, exactly when they needed it, for the duration of the project.
# # #
This article was originally published in ALL's Lift Line magazine, Spring 2017.