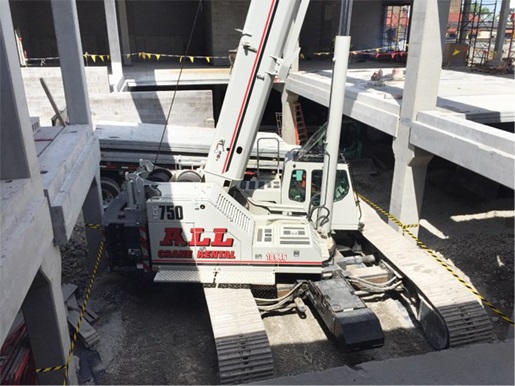 Cleveland's Little Italy is a close-knit, historic community. When a 75-ton capacity crane arrives on the scene—and starts winding through tight alleyways—people take notice. Such was the scene when a new residential construction project began last summer.
A new 26-unit condominium complex was planned for a 3/4-acre lot, with limited road access and close neighbors. Cranes and other construction equipment had to travel down an alley just 15 feet wide, make a 90-degree turn to the job site, and then traverse a 30 percent grade through an 18-foot opening down into a hole dug for foundation work and a parking level.
The general contractor, Pride One, hired Mack Industries to provide precast concrete for the job. Mack, in turn, contracted with ALL Erection & Crane Rental of Cleveland, a member of the ALL Family of Companies, to provide the cranes for setting the concrete. It was a partnership that paid huge dividends for everyone involved in the project.
ALL Crane provided several cranes for the job, with a 75-USt Link-Belt TCC-750 telecrawler doing the bulk of the work. "Any other crane would have been too large to assemble on-site," said Brian Meek, equipment specialist for ALL Crane. "There wasn't room to assemble the boom for a conventional lattice crawler, and we didn't feel a large rough-terrain crane would be productive because its positioning could impede the access of other construction vehicles."
In addition to Meek, another key player in the project was Renita Hamm, a project manager for Mack Industries. She spent countless hours on a plan that sequenced every lift, color-coded and in order, so crews knew which pieces to set, when to set them, how much counterweight was needed, and, within inches, where the crane had to be positioned to accomplish each task with appropriate swing.
"In a space this tight, if you start randomly setting beams, soon you'll have built yourself into a corner," said Hamm. "It was not a symmetrical layout. The thought was to break each pick into quadrants. Install hollowcore floors, put beams and plank above, then review boom interference and ask, 'How far can I reach before I start hitting product I've already installed?'"
Using Hamm's plan, the TCC-750 set precast concrete beams, mostly ranging in weight from 10,000 pounds to 20,000 pounds (the largest was 55,000 pounds and measured 40 feet across). Precast was delivered to the site in short specialty trailers. In off-weeks, when there was no concrete to set, the TCC-750 remained in the hole to assist other contractors. "It would have been so difficult to bring another machine into the hole, it just made sense to keep the 750 down there," said Meek.
As the project progressed and space became even narrower, sequencing of lifts became even more important. With assistance from ALL Crane's crawler division, the team determined an exit point for the TCC-750 and planned the steps for walking it out from the now-nearly enclosed subterranean space to close out the structure.
"It was a satisfying project," said Meek. "It allowed us to use many tools in our toolbox—sourcing the right crane for the right job, collaborating, and lending our crane expertise to a successful job."
An enduring image from the project? The TCC-750 with an Italian flag hanging from its boom. "We wanted the neighborhood to know we respected the history and appreciated their accommodation as we built these new homes."